After a long wait, the DDR5 RAM modules are here. As with each newer RAM generation, the DDR5 RAM significantly improves the maximum bandwidth compared to DDR4. However, it would be best to have a compatible motherboard to reap the benefits of the newer RAM generation.
Currently, only Intel 600 series motherboards offer support for DDR5 RAM. This includes the Z690, B660, and H610 chipsets.
Since RAM modules are NOT backward compatible, you cannot use a DDR5 RAM module on a DDR4 motherboard. Hence, I will list which motherboards support DDR5 RAM in this article.
Essentially, it is easier to take note of the motherboard chipset that supports DDR5 RAM instead of looking at each model.
If a specific motherboard chipset supports DDR5, all its motherboard models, despite their brand or price tag, would intrinsically support DDR5 RAM.
Which Motherboards Support DDR5 RAM?
Again, looking at the motherboard chipsets supporting the DDR5 RAM is more straightforward than looking at each make and model.
At the moment, Intel 600 series chipsets support DDR5 RAM. So chipsets including Z690, B660, and H610 support DDR5 RAM.
The following table explains this in detail:
Chipset
Socket/CPU
Examples
Remarks
Intel Z690
LGA1700
12th Gen CPUs
– Gigabyte Z690 AORUS XTREME
– Asus ROG STRIX Z690-E GAMING WIFI
– Asus PRIME Z690-P WIFI
High End Motherboards
Intel B660
LGA1700
12th Gen CPUs
– MSI MAG B660M MORTAR
– Asus TUF GAMING B660M-PLUS WIFI
– Gigabyte B660M AORUS Pro AX
Mid Range Motherboards
Intel H610
LGA1700
12th Gen CPUs
– ASRock H610M-HDVP/D5
– Asus Pro H610M-C-CSM
Low End Motherboards
Currently, there are no AMD motherboards that support the newer DDR5 RAM. This will change soon, as AMD is gearing up for its next-gen CPnext-generation motherboards.
It should be noted that there are many critical differences between a high-end and a low-end chipset.
For instance, a high-end chipset, such as Z690, has more new-gen USB ports, allows overclocking, has more PCIe lanes which in turn means more expansion slots, has better VRM and phase power design, etc.
I wrote an article detailing what makes a motherboard good, describing how the chipset matters.
So, in other words, all the motherboards featuring the Intel 600 series chipset from the Z, B, and H lines support DDR5 RAM.
Also Read: Which Intel and AMD CPUs Support DDR5 RAM?
You Will Have to Upgrade Your Entire PC to Enable Support for DDR5 RAM
Getting DDR5 RAM would force you to upgrade your entire PC. This is because DDR5 RAM is NOT backward compatible.
In other words, you cannot install DDR5 RAM in an older motherboard designed to support DDR4 RAM.
As such, you must get a motherboard with dedicated support for DDR5. This would also force you to invest in a new CPl.
This is because all the newer chipsets, such as the Intel Z690, Intel B660, and Intel H610 that support DDR5, have a completely new CPU socket, i.e., LGA1700 helps 12th Gen Intel CPUs.
Also Read: How to determine what CPU with compatible with my motherboard?
In other words, you could not install your older LGA1200-based 10th and 11th Gen Intel CPUs on the newer motherboards.
So you have to gauge whether DDR5 RAM is worth the upgrade? In my opinion, if you have decent enough system specs, then upgrading is not a fruitful idea at all.
Alternatively, if you are building an entirely new system, the prospect of having a newer-gen DDR5 RAM makes more sense.
What is the Price of DDR5 Motherboards?
As with all motherboard generation, the price of the new-gen motherboards that support DDR5 depends on their performance category.
Given the Intel 600 series, the H610 series motherboards are the cheapest, followed by the B660 series motherboard, and the Z690 series motherboards are the most expensive.
The table below explains this further.
| Chipset | Price Range | Cheapest Motherboard | Most Expensive Motherboard |
| --- | --- | --- | --- |
| Intel H610 | $80-$171 | ASRock H610M-HVS ($80) | ASUS PrimeH610M-K ($171) |
| Intel B660 | $95-$635 | ASRock B660M-HDV ($95) | ASUS ROG Strix B660-A ($635) |
| Intel Z690 | $160-$1900 | ASRock Z690M Phantom Gaming 4 ($160) | GIGABYTE Z690 Aorus Xtreme Waterforce ($1900) |
The prices are subject to change.
The prices of motherboards supporting DDR5 are pretty typical of what you would expect from newer motherboards from their respective series.
You can make a reasonably cheap build with an affordable H610 motherboard for as cheap as $80 or a stupendously expensive build with the mind-boggling Gigabyte Z690 Aorus Xtreme Waterforce having a price tag of $1900.
But in reality, the prices of DDR5 motherboards aren't any different from the previous-gen motherboards.
DDR5 Motherboards are Available in All Form Factors
Depending on your preference, you can find DDR5 supporting motherboards in all form factors, including:
Mini ITX – 6.7 x 6.7 inches – most minor form factors
Micro ATX – 9.6 x 9.6 inches – Form factor for most budget motherboards
ATX – 12 x 9.6 inches – form factor preferred by enthusiasts, professionals, and gamers
EATX – 12 x 13 inch – form factor for very expensive motherboards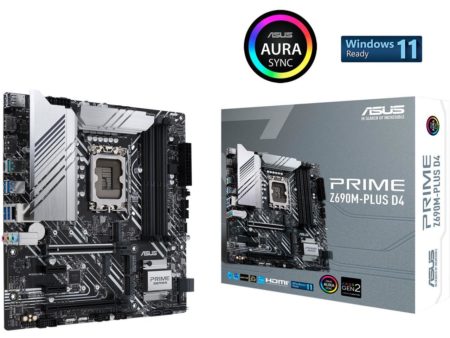 You can find DDR5 motherboards from all the popular brands, including ASUS, Gigabyte, MSI, and ASRock, as well as from lesser popular brands, such as Biostar and Maxsun.
Also Read: Can You Reuse Old RAM Sticks?
Final Words
Here I talked comprehensively about which motherboards support DDR5 RAM at the moment.
I mainly looked at the motherboards featuring the Intel 600 series Z690, B660, and H610 chipsets, as these are the only chipsets currently supporting DDR5 RAM.
Of course, as time goes on, this list will get populated with more and more chipsets from Intel and AMD.
Frequently Asked Questions
1. Will all motherboards that support DDR4 RAM also support DDR5 RAM?
No, not all motherboards that support DDR4 RAM will also support DDR5 RAM. DDR5 RAM is a newer technology and requires a compatible motherboard that is specifically designed to support it.
2. What types of processors are compatible with motherboards that support DDR5 RAM?
Currently, the only processors that are compatible with motherboards that support DDR5 RAM are the latest generation processors from Intel and AMD. This includes the Intel Alder Lake and AMD Ryzen 5000 series processors.
3. What other considerations should be taken into account when choosing a motherboard that supports DDR5 RAM?
When choosing a motherboard that supports DDR5 RAM, it is important to consider factors such as the chipset, form factor, and expansion slots. It is also important to ensure that the motherboard is compatible with the processor you plan to use and has the necessary features and capabilities for your specific needs, such as overclocking support, Wi-Fi connectivity, and number of USB ports. Additionally, it is important to consider the cost and availability of DDR5 RAM modules, as they may be more expensive and harder to find compared to DDR4 RAM modules.
Also Read: Intel vs. AMD RAM – Are RAMs for Intel and AMD CPUs Different?