Roblox is perhaps the most popular gaming platform for kids. It is a sensation that is found in almost every home with children.
It has been reported that 3 out of 4 kids between ages 9 – 12 play Roblox in the U.S. alone. I am sure you would attest to this if you have children in your family too!
As an adult, it can be challenging to wrap your head around what the game is all about. Roblox is a platform where you play user-generated games.
So essentially, there are two modes: game creation and playing. Game creation is generally catered toward professionals/adults who can understand world-building and read the countless Wikis on creating a unique game.
However, most of the kids and players go and play user-generated games instead.
The good news is that if your kid nags you to get a desktop PC for Roblox, you will not have to spend a fortune! Roblox is not a very demanding game. You can go for a higher-budget gaming PC built for Roblox, as it is a VERY fair game.
If you are on a tight budget, you could easily make a gaming PC for Roblox for under USD 300!
What is Roblox in Brief?
Image: There is a vast repository of games you can play on the Roblox Platform
Again, if you are an adult struggling to understand why your kids are so hooked on this gaming platform, let me briefly talk about this game.
Roblox is a FREE gaming platform where you play user-generated games. There is a lot of fun already available that you can play. Think of the Roblox platform as similar to the Google Play Store on an Android Phone, where you can download and play thousands of games.
Only here, in Roblox, are the games all played online since it allows your
Roblox enthusiasts often refer to this game as the ultimate virtual universe since it will enable you to create and play anything you can imagine.
For instance, there is a game called Adopt Me. This is one of the most popular games on Roblox at the moment. This is a game where you play the roles of either a parent who wants to adopt a child or the part of a child to be assumed.
This game is about caregiving, whereby you try to meet the adopted child's needs.
Another popular game is Jailbreak. Here you get to play as a Cop or a Criminal and try to win against the other side in various scenarios, such as heists and raids.
There are also copies of traditional games that you can play on the Roblox platform. For instance, Arsenal is a Roblox version of Counter-Strike.

Image: Arsenal, a Roblox game inspired by Counter-Strike.
Here is a list of popular Roblox games at the moment.
You can download and install the game through the Roblox website. Accessing the Roblox website will ask you to create an account. Do so and then download and install the tame.
When you perform a fresh install, the platform will install two applications, Roblox Player and Roblox Studio.
Roblox Player: the primary launcher for playing Roblox games
Roblox Studio: the launcher for the game creation mode.
Spare a Sec for a Brief Poll
The following survey will help me improve the article and will only take about half a sec to complete : )…
Game Creation Mode
The game has two modes:
Game creation mode allows the more advanced players to create games on the Roblox platform. The games mentioned earlier, i.e., Adopt Jailbreak and Me, are examples of games users have created.
The game has a complex engine and a vast library of information and knowledge base at the developer's hub for creating a game on Roblox.
The Game Creation Mode is more catered toward adults and professionals. You can enroll in a Roblox course if you are serious about building a game.
There are tons of courses out there that teach you how to code and design games in Roblox.
Minecraft vs. Roblox
Another game that you must often hear about in tandem with Roblox is Minecraft.
Minecraft is another viral game enjoyed by both kids and adults. While there are similarities between the two, here is how they compare.
Roblox is Free
Minecraft is not Free. The Minecraft Java edition costs $26.95.
Roblox, on the other hand, is free to play. However, it has an in-game currency that can be bought with real money.
The in-game currency, Robux, can customize your avatar, trade with other players, create games, and upgrade your account to premium.
Roblox premium is a monthly subscription worth $4.99/month or 450 Robux/month. It adds several benefits, which you can learn about here.
In addition, you would need to spend money if you want to remove ads.
Game Mechanism
Minecraft is all about harvesting, exploring, and crafting.
Roblox, on the other hand, has several games that you can play. Certain games can mimic Minecraft's crafting and harvesting aspect, whereas others are entirely different.
Social and MMO Aspect
Minecraft is generally intended to be played solo. While there are servers and user-generated content on Minecraft that you can join, most of the game is based on the solo experience.
Roblox, on the other hand, is a very social game. It often features large servers with many players playing at the same time. Fortunately, there are robust parental controls for controlling the content your kid can get exposed to.
Also Read: PC Builds for Minecraft
Desktop PC for Roblox Build Guide
Roblox has very minimal system requirements. This is a game that can run on even a Potato PC. In all reality, the only important thing to play this game is a stable internet connection.
Before we delve into the right hardware for the game, let us look into what the official requirements have to say:
Official Roblox System Requirements
| | |
| --- | --- |
| CPU | 1.6 GHz clock speed, must be from 2005 or newer |
| GPU | Five years old dedicated GPU or three years old integrated GPU with DirectX 10 or higher support |
| RAM | 1 GB |
| Hard Drive | 20 MB or higher |
For any gaming PC builder, these specifications are laughable. So weak are the requirements for Roblox that anyone with a computer can play it no matter how old the PC is, as long as you have a stable internet connection.
This is a blessing, especially if you want to build a budget gaming PC for your kids.
The following section will discuss each component and benchmark them for reference.
But the critical point to take home from here is that the suitable PC for Roblox does not have to be expensive – in fact, it would be an ultra-budget machine, UNLESS you are a creator or someone who wants to play the game at 4k or 8k resolution!

I. CPU Requirements for Roblox
According to the official requirements, any CPU with a 1.6 GHz clock speed or higher from 2005 and beyond would do well for this game. This indicates that this is a shallow demanding game.
Let's look at some top-of-the-line CPUs released in 2005 – 2008 and compare them with those you can get today.
CPUs Released from 2005 – 2008 – For Reference
You cannot find these CPUs in the market, and the following table is just for reference to give you an idea about what the game demands.
It would be best if you took particular notice of the MSRP or the Release Price to realize how expensive the processors were back then and how low their corresponding benchmark scores were compared to contemporary CPUs.
| | | | |
| --- | --- | --- | --- |
| CPU | Release Year | Specs | PassMark Benchmark |
| Intel Pentium 4 516 | 2005 | 1 Core 1 Thread 2.93 GHz | 150 |
| Intel Pentium D 830 (MSRP $316) | 2005 | 2 Cores 2 Threads 3.00 GHz | 513 |
| Intel Core 2 Duo E6700 (MSRP $530) | 2006 | 2 Cores 2 Threads 2.66 GHz | 986 |
| Intel Core 2 Duo E6850 (MSRP $266) | 2007 | 2 Cores 2 Threads 3.0 GHz | 1140 |
| Intel Core 2 Duo E8600 (MSRP $266) | 2008 | 2 Cores 2 Threads 3.3 GHz | 1334 |
| Intel Core 2 Quad Q6700 (MSRP $851) | 2007 | 4 Cores 4 Threads 2.66 GHz | 2029 |
| Intel Core 2 Quad Q9650 (MSRP $530) | 2008 | 4 Cores 4 Threads 3.0 GHz | 2379 |
| Intel Core 2 Extreme QX9775 (MSRP $1499) | 2008 | 4 Cores 4 Threads 3.2 GHz | 2780 |
Current Gen CPUs for Roblox
Below we have mentioned the newer-gen CPUs you can get for your Roblox setup. You can compare these with the older CPUs mentioned above and see the difference between the release price and the benchmark scores.
CPU
Release Year
Specs
PassMark Benchmark
Intel Celeron G5905 (MSRP $42)
2020
2 Cores 2 Threads 3.5 GHz
2846
Intel Pentium Gold G6400 (MSRP $64)
2020
2 Cores 4 Threads 4.00 GHz
4173
AMD Athlon 3000G (MSRP $50)
2019
2 Cores 4 Threads 3.5 GHz
4455
AMD Ryzen 3 3200G (MSRP $99)
2019
4 Cores 4 Threads 4.0 GHz
7226
Intel Core i3 10100 (MSRP $122)
2020
4 Cores 8 Threads 4.3 GHz
8823
AMD Ryzen 5 3400G (MSRP $$150)
2019
4 Cores 8 Threads 4.2 GHz
9372
AMD Ryzen 3 3100 (MSRP $$99)

NO iGPU

2020
4 Cores 8 Threads 4.0 GHz
11723
AMD Ryzen Three 3300X (MSRP $120)

NO iGPU

2020
4 Cores 8 Threads 4.3 GHz
12739
From here, you can see how far the CPUs have come since 2005 (the initial year Roblox recommends finding the CPU from in the official requirements).
What was once top-of-the-line and cost USD 1500 in 2008, i.e., the Intel Core 2 Extreme QX9775, cannot even compete with the weakest CPUs of today.
While different benchmarks would give you different results, the bottom line is that entry-level processors today can compete with the high-end CPUs of 2005-2008.
Hence, if you are building a PC for Roblox today, you will use ultra-budget or entry-level CPUs.
CPUs today are so much better, despite not drastically improving on-the-clock speed because the CPUs today use a much better architecture.
Clockspeed is just one of many essential aspects determining the processor's performance. A higher clock speed does not always mean better performance. The architecture and the transistor size play a huge role.
Take, for instance, the Intel Core 2 Extreme QX9775, which had a transistor size of 45 nm. Processors today, such as the AMD Ryzen 3 3300X, have the size of a transistor of a mere 7 nm! The smaller the transistors, the more efficient the CPU is.
Old and New CPor Recommended for Roblox Compared
Here is how the older and the newer processors compare:
Note that the price next to each CPU is the initial release price, not the market price).
This should help you visualize how far the CPU has come. Therefore, whRobloxlox suggests a CPu from 2005 onward, knowing that even the most powerful CPUs from 2005-2008 cannot compete with the current-gen entry-level CPUs.
The Emphasis is on the Single Core Performance
Roblox is a predominantly single-corporate game. It would not benefit much from a CPU with many company forums discussing this topic, c. But According to one of the Roblox Staff on one of the forums, the game is designed for a single there mainly – each CPU core represents one thread by default two threads as if it enabled multi-lines.
Long story short, if you are a Roblox Player, are PARTICULARLY a Roblox Game Creator, try to aim for a CPU with the th best single core performancThethe AMD Ryzen 3 3300X ($120) has excellent value asingle-coreore performance, beating even the mid-range AMD Ryzen 5 3600 in single-core benchmarks ($199).
Hence, this is highly recommended if you are a Game Creator and want an economical CPU.
For regular users and kids who want to play the game, AMD Ryzen 3 3300X is not recommended because it does not feature an integrated graphics card. Instead, the AMD APUs like the AMD Ryzen 3 3200G or Intel processors would do just fine.
I Recommend CPUs with an Integrated Graphics Card
There are generally two types of processors: those with an integrated graphics card and those without it.
Most Intel processors have integrated graphics cards. However, when it comes to AMD, most mainstream CPUs do not have an iGPU.
The ones that do are called Accelerated Processing Units or APUs, which have the 'G' Suffix in their model name, such as the AMD Athlon 3000G.
AMD APUs have the powerful Vega iGPU. These are generally much better than the Intel CPU with their UHD 630 or UHD 750 graphics cards.
The AMD mainstream CPUs, or CPUs without an integrated graphics card, on the other hand, do not have the 'G' Suffix, such as the AMD Ryzen 3 3100 and AMD Ryzen 3 3300X.
When it comes to sheer CPU performance, the mainstream AMD CPUs are excellent, as can be seen in the benchmarks above.
However, with the mainstream AMD CPUs, you must invest in a dedicated GPU separately, adding to the extra cost of your PC build for Roblox.
Roblox can perform pretty well with an integrated graphics card. And if you want great integrated GPUs for Roblox, then AMD APUs are recommended.
We cover the Roblox graphics card requirement in detail in the next section.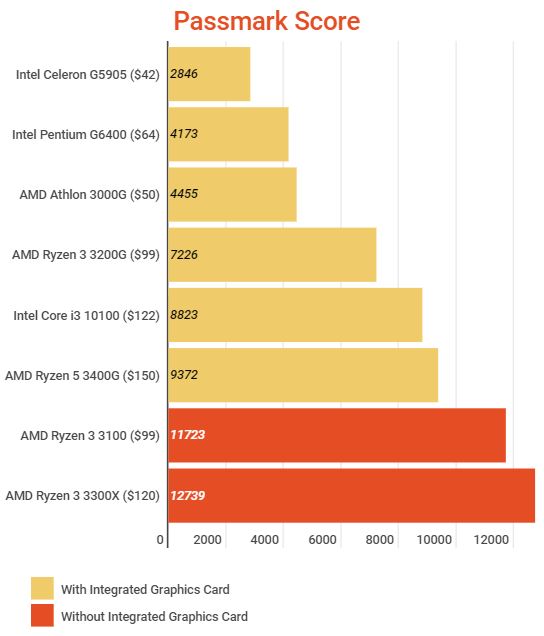 Image: CPUs without iGPU are higher performing, but you need a dedicated graphics card to connect a display or play Roblox. This can add to the cost of your Roblox PC build.
Also Read: Do Motherboards have Integrated Graphics?
What About a Ryzen 5 or an Intel Core i5 Processor?
A Ryzen 5 or an Intel Core i5 processor can be more than an overkill for Roblox. Hence, I would not recommend investing in something you would certainly not use nearly to your full potential.
II. Graphics Card Requirements for Roblox
Similar to the CPU requirements. Roblox requires a minimal or entry-level graphics card.
In our opinion, the most recommended graphics cards for Roblox are the newer integrated graphics cards. These can allow you to save up incredibly on your overall gaming PC.
In any case, let us look at somewhat the official requirements have to say:
Three years old integrated GPU
or five years old dedicated GPU
Must have DirectX 10 or higher support
3 Years Old Integrated GPU Benchmarks
The beauty of Roblox is that it is a game that can be easily enjoyed on an integrated graphics card.
AMD APUs generally have better-integrated graphics cards than Intel CPUs.
Intel has the UHD series, such as UHD 630 and UHD 750 iGPU. Conversely, AMD has VEGA series GPUs, such as Vega 3 and Vega 8.
As mentioned earlier, while most Intel CPUs come with an integrated GPU, when it comes to AMD, only a select few with the 'G' suffix, such as the AMD Ryzen 3 3200G APUs, offer an iGPU.
Integrated GPUs Compared
The following are the popular contemporary integrated GPUs:
| | | |
| --- | --- | --- |
| GPU | Release Year | G3D Mark |
| Intel UHD 630 | 2017 | 1395 |
| Intel Iris Plus 650 | 2017 | 1605 |
| Intel UHD 750 | 2020 | 1684 |
| AMD Radeon Vega 3 | 2019 | 1071 |
| AMD Radeon Vega 8 | 2018 | 1704 |
| AMD Radeon Vega 11 | 2018 | 2139 |
I recommend Intel UHD 630 as the bare minimum. Roblox performs just right with medium graphics settings on this iGPU.
Roblox Performance on Intel UHD 630 iGPU
Roblox barely performs well on the Intel UHD 630, found on many Intel CPUs from the 10th gen and lower.
You must tweak the graphics settings to get the right frames per second.
The performance, however, does depend upon the game you play in Roblox, the number of players on the map, and the complexity of the map.
In any case, I tested the FPS on Intel UHD 630 on Arsenal, and here are the results at 1920×1080 resolution.
Arsenal on Intel UHD 630 Graphics Settings 1/10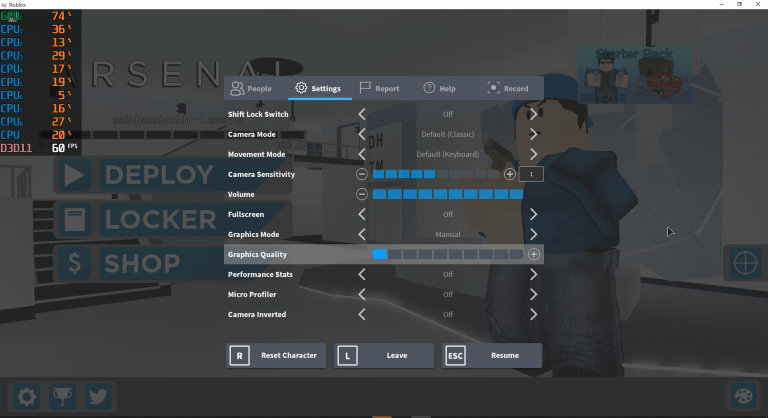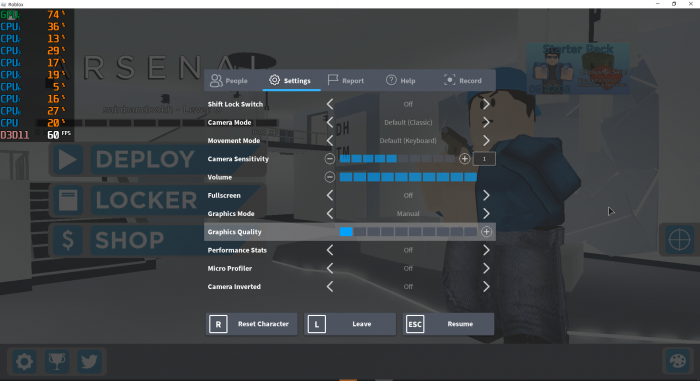 Image: Roblox Arsenal at graphics settings 1/10 on Intel UHD 630.

The game performs perfectly well on the lowest graphics settings. It will give you a flawless 60 FPS experience.
Arsenal on Intel UHD 630 Graphics Settings 5/10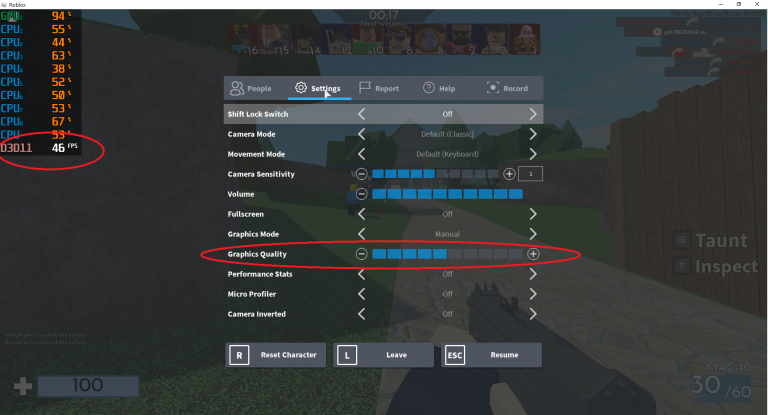 Image: Roblox Arsenal at graphics settings 5/10 – 45 FPS on Intel UHD 630.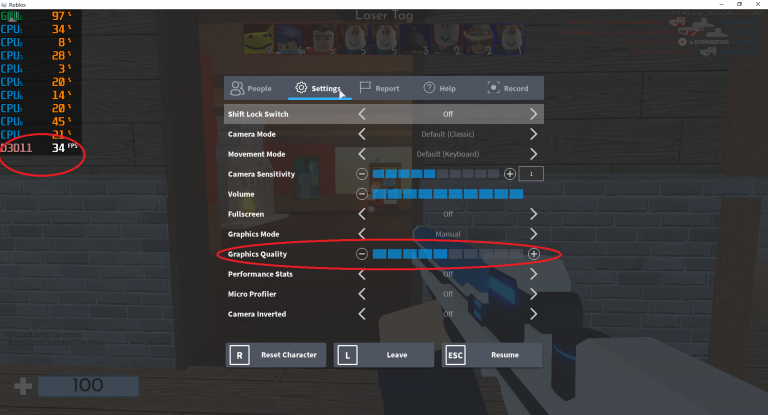 Shot: Roblox Arsenal at graphics settings 5/10 – 33 FPS on Intel UHD 630.

At a graphic setting of 5, the Intel UHD 630 can perform well enough and maintain a decent 40 – 45 FPS. However, it CAN occasionally drop below to low 30s depending on how intensive the game is.
Arsenal on Intel UHD 630 Graphics Settings 10/10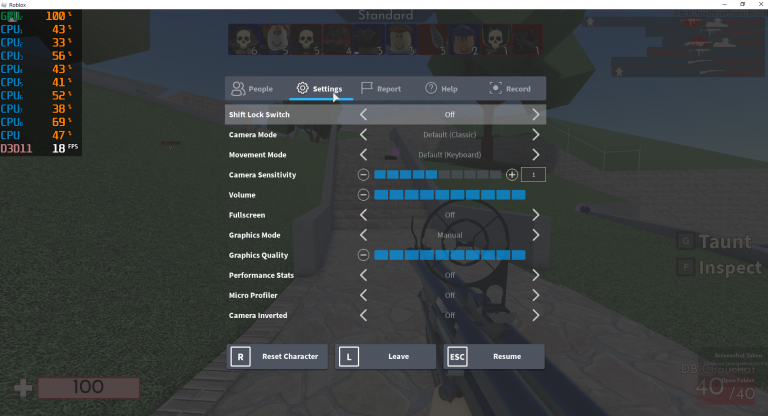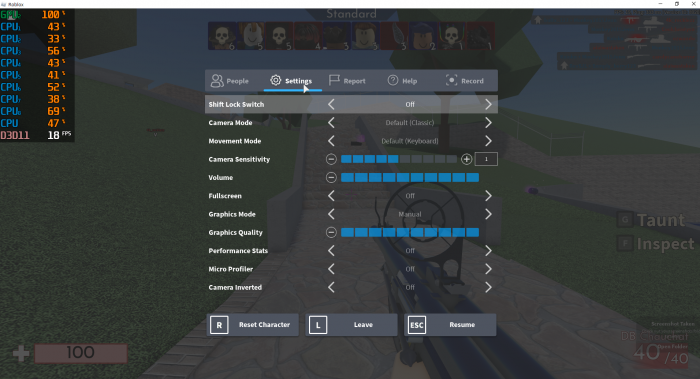 Image: Roblox Arsenal at high settings 10/10 – 18 FPS on Intel UHD 630.

The game was unplayable at the high settings of 10/10, with the FPS dropping to between 15-20 FPS all the time.
So, if you are okay with playing at low-medium graphics, a PC build for Roblox with Intel UHD 630 should suffice.
However, if you want to play on high graphics and get a high frame rate, we recommend you go with Vega 8, Vega 11, or a better dedicated GPU instead.
Again, the FPS you get depends on which Roblox game you play and how intensive the action in the game is!
5 Years Old Dedicated Graphics Card Benchmarks
"Dedicated" GPU is an umbrella term. The thing is, every GPU series has lower-end, mid, and high-end GPUs.
For instance, five years ago, the popular NVIDIA Dedicated graphics card series was the GeForce 900 series.
This series featured entry-level GPUs such as the GeForce GT 945 to GeForce GTX TITAN X.
Now regarding Roblox, an entry-level dedicated GPU should more than suffice. High-end faithful GPUs from 5 years ago are MORE THAN JUST AND OVERKILL for Roblox.
Here is how different dedicated graphics cards, new and old, compared with each other in performance.
| | | | |
| --- | --- | --- | --- |
| GPU | Release Year | G3D Mark | Class |
| Nvidia GeForce GT 710 | 2016 | 637 | Entry-Level ($45) |
| Nvidia GeForce GT 740 | 2014 | 1543 | Entry-Level ($59) |
| Nvidia GeForce GT 1030 | 2018 | 2613 | Entry-Level ($79) |
| AMD Radeon RX 550 | 2015 | 2764 | Entry-Level ($79) |
| AMD Radeon RX 560 | 2017 | 3631 | Lower-Mid ($99) |
| NVIDIA GeForce GTX 1050 | 2016 | 5202 | Lower-Mid ($109) |
| Nvidia GeForce GTX 1060 | 2017 | 8013 | Mid-Range ($169) |
| Nvidia GeForce GTX 1660 | 2019 | 11610 | Mid-Range ($219) |
| Nvidia GeForce RTX 3080Ti | 2020 | 26544 | High End ($699) |
As you can see, the dedicated GPUs released in the last five years have varied tremendously in their benchmark scores.
We recommend you go for a graphics card that hovers in the upper range of the Entry-Level graphics card. So, in other words, we recommend the NVIDIA GeForce GT 1030 or the AMD Radeon RX 550 for playing Roblox at high graphics with reasonable frame rates.
Image: The NVIDIA RTX 3080Ti is just for reference : ).

GPU for Playing Roblox at 4K Graphics
Suppose you are a Game Creator looking to build a beefier PC that can easily handle Roblox at high resolution, such as 4k, and allow you to play other AAA titles at reasonable frame rates. In that case, my RECOMMENDED GPUs are the Lower-Mid range dedicated graphics cards, such as the AMD Radeon RX 560 or the NVIDIA GeForce GTX 1050.
4K resolution and high graphics can get taxing for even a respectable GPU.
The following image shows Roblox Arsenal being played on 3840 x 2160 (4k) on Nvidia GTX 1050Ti at full 10/10 graphics. While the game mostly maintained 60 FPS, there were times that it would drop to 45 FPS as well, mainly when the game got intense.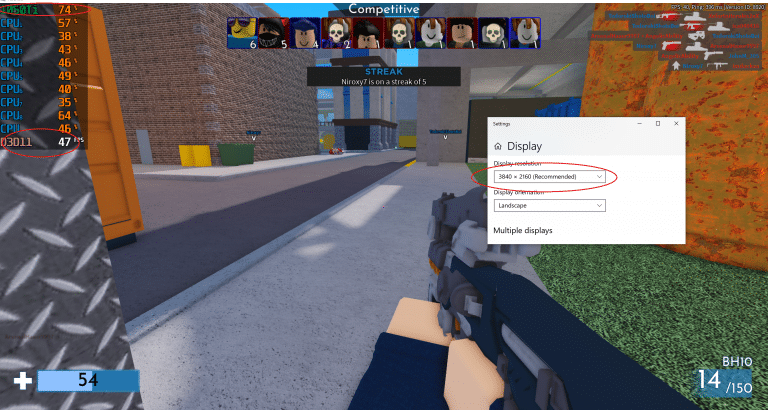 Image: Roblox Arsenal at graphics settings 10/10 – 47 FPS on NVIDIA GTX 1050Ti.
Unless you are a creator, you will unlikely want to build a 4 KPC for a game like Roblox.
If you are building a desktop computer for Roblox for your kids, any essential integrated or dedicated GPU will do just fine for playing the game at 60 FPS on high settings on 1920×1080.
III. RAM Requirements
The official RAM requirements for Roblox are 1 GB.
It is hard to find any computer that does not feature 4 GB DDR4 RAM, let alone only 1 GB.
It is almost impossible to find a physical DDR4 RAM stick with a size smaller than 4 GB.
Hence, if you are building a PC for Roblox today, your system will have at least 4 GB DDR4 RAM, far greater than the official requirement of 1 GB.
Does RAM Improve Roblox Performance?
If you are having issues with maintaining reasonable frame rates despite having a large amount of RAM, then RAM is NOT to be blamed here.
How smoothly Roblox works for you depends upon the CPU and the GPU.
These are the two primary components that you should pay attention to.
RAM is excellent if you are multitasking. So, for instance, if you have stuff running in the background like screen capturing software, twitch chat, and other stuff running simultaneously, then you may need a higher RAM.
But for playing the game, you will see little to no difference with more RAM.
IV. Hard Drive Requirements
Roblox requires a meager 20 MB of storage space.
The challenging drive requirements are low because you only need to install the game client. The actual games are all played online.
In other words, if you want to play any Roblox game, you do not have to download and install them on your PC.
Should You go for SSD or HDD for Roblox?
Do not worry too much about getting an SSD for Roblox.
Again, since Roblox is an online gaming platform, the type of hard drive you have does not matter at all.
Keep things simple and get yourself a standard hard disk drive, especially if you want to build a computer as cheaply as possible.
On the other hand, if you have the budget to spare, you could potentially look into an SSD for the rest of the stuff you would do on your PC, but as far as Roblox goes, it will not affect the performance.
Again, storage should be the least of your concerns since 20 MB of space could even be found on computers three decades old!
V. Recommended Motherboard for Roblox
Just as is the case with all the other components, for the motherboard, we also recommend that you go for an affordable model.
Many factors determine the overall cost of the motherboard, and we review them here about Roblox:
Form Factor for Roblox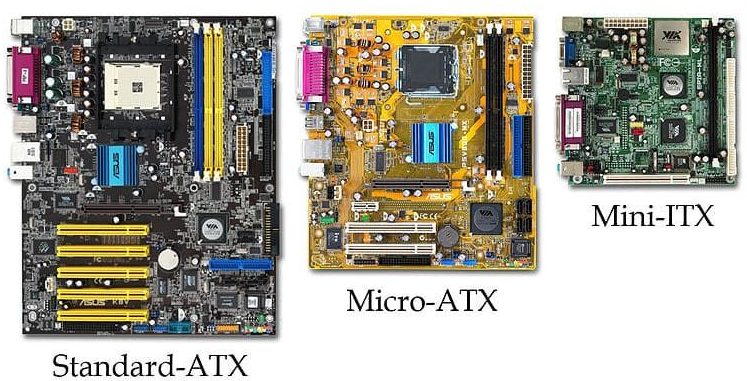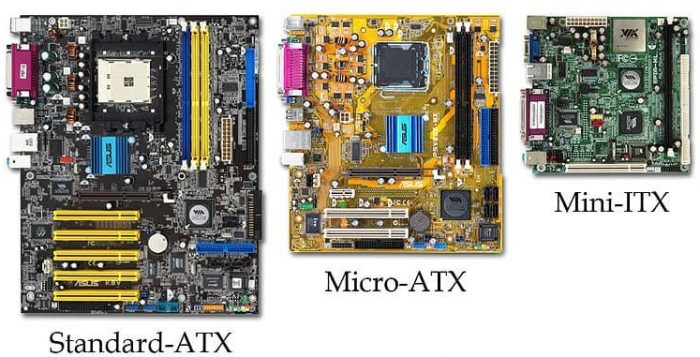 Source: Wikipedia
There are three common motherboard form factors that you can find for a desktop computer:
ATX – 12 x 9.6 inches
Micro-ATX – 9.6 x 9.6 inches
Mini-ITX – 6.7 x 6.7 inches
ATX
The ATX form factor is the largest and thus costs higher. It has a higher number of expansion ports and is generally for those with many components to add.
For a Desktop for Roblox, we do not recommend this, especially for a budget build.
Micro ATX
This is the most recommended motherboard size for Roblox. The cheapest motherboards often feature this form factor. They have a decent amount of expansion slots.
Mini-ITX
These are the smallest of the motherboards. However, they are not the cheapest due to their compact form factor.
But if you are an enthusiast who wants to build a beautiful mini Roblox gaming PC, then this is a form factor you can look into.
Note that this form factor only has a single PCIe x16 slot!
Also Read: Are All Motherboards the Same Size?
Choice of Chipset
Another critical consideration is the choice of the chipset.
The chipset you have determines a myriad of factors, including:
The CPU socket i.e AM4, LGA1200, LGA1151 etc
Can you overclock or not
The PCIe version your PC will conform to
The amount of PCIe lanes
The amount of PCIe expansion slots
The type and amount of ports
Ability to install multiple graphics cards
The size of VRMs
Both Intel and AMD have different chipset series catering to different budget ranges.
Also Read: Can You Use AMD GPU with Intel CPU?
AMD Motherboard Chipsets:
The following are the common AMD chipsets
A Series: i.e., A520, the chipset series for entry-level motherboards.
B Series: i.e., B550, for mid-range and most staple gaming pc builds.
X Series: i.e., X570, for high-end builds
For Roblox AMD PC builds, we mostly recommend the A series chipset, i.e., the A320 or the A520, for most budget makes.
If you want to build an enthusiast PC for Roblox, you can look into the B550 chipset with its PCIe version 4.0, more expansion slots, overclocking ability, and a higher number of USB 3.2 ports.
Intel Motherboard Chipsets:
B Series: i.e. B560, for entry-level builds
H Series: i.e., H510 for mid-range builds
Z Series: i.e., Z590, for high-end builds
For Roblox Intel PC Build, we recommend the essential H series for most staple builds.
But if you want something more robust for your overall build, you can look into the B series.
Which is Better for Roblox, Intel, or AMD?
In my opinion, at the moment, considering the range of the CPUs and the motherboards, AMD seems to be the better option.
Their affordable APUs with integrated graphics cards, such as the AMD Ryzen 3 3200G or the Ryzen 5 3400G, can save you from investing in a separate GPU.
In addition, the AMD motherboard chipsets are also more robust, given that the midrange AMD B550 chipset offers PCIe version 4.0 and overclocking, yet the midrange Intel B560 does NOT deliver to overclock.
Also Read: Does Motherboard Matter for Gaming?
VI. Operating System for Roblox
Roblox can run on many operating systems.
| | |
| --- | --- |
| Windows | Windows 7, Windows 8/8.1, Windows 10 |
| macOS | 10.7 or higher for Roblox Game Client 10.11 or higher for Roblox Studio |
| Chrome OS | Chrome OS 53 or higher |
Unfortunately, at the moment, the Linux operating system is not supported.
What Other Platforms Does the Game Support?
Roblox can be played on,
Computer: Windows, Mac, Chromebooks
Mobile Device: Android or iOS devices
Xbox One
And the best part is that all these platforms are cross-compatible. Meaning if you have Roblox on your PC, you can play with your friend who has Roblox on an Android phone.
In addition to that, you can use your Roblox account on any of these devices.
Roblox App
As mentioned earlier, Roblox supports crossplay. In others, you can play both on your PC and via the mobile app. Your account would be accessible on both.
You can download the Roblox app from Google Play Store or the iOS store. Like the PC game, the Roblox app is also very light and has an extensive collection of games you can play.
VII. Roblox and Virtual Reality
Virtual reality world-building has enabled a vast new dimension for the game, with an extensive collection of VR games already available for you to play.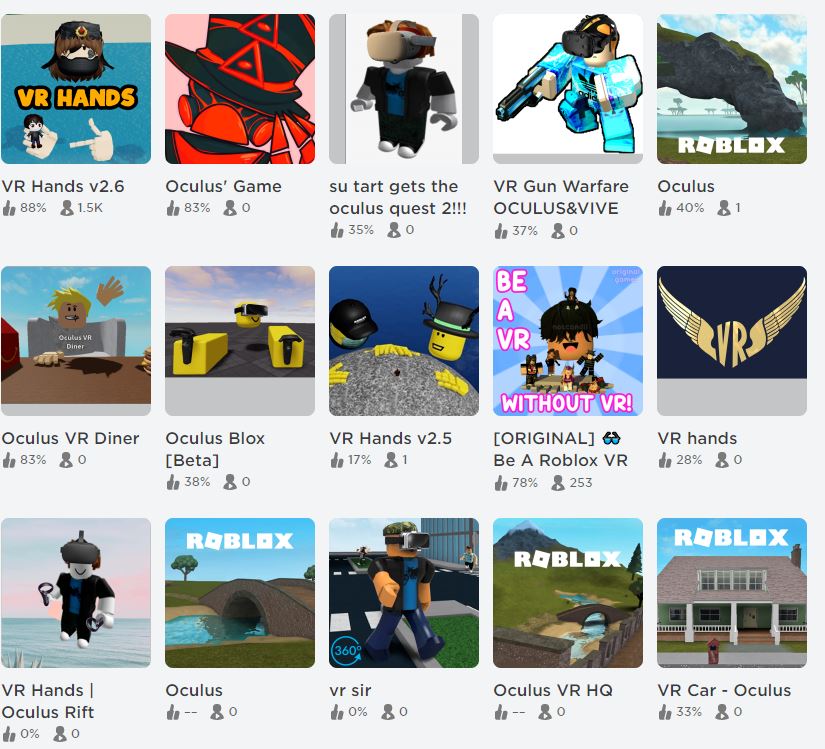 Does Roblox Support Virtual Reality Headsets?
Yes, Roblox does have direct support for two VR headsets at the moment only on Windows PCs, however:
To enable the VR experience, you must toggle the VR Mode On through the in-game settings of select games.
Is Roblox VR Supported on Oculus Quest and Oculus Quest 2 VR Headset?
At the moment, there is no direct official support for these headsets. However, you can still play on these headsets via the Oculus Link Mode.
In this mode, the game will run on your PC, and the PC will then send signals to the Oculus Quest VR Headset. In other words, the PC will work as a proxy.
You will need to download and install the Oculus software on your PC.
More on this here.
FREQUENTLY ASKED QUESTIONS
1. Can I use a pre-built desktop PC for playing Roblox or do I need to build my own?
Yes, you can use a pre-built desktop PC for playing Roblox. However, building your own PC can offer more flexibility and customization options to meet your specific gaming needs.
2. What is the recommended storage capacity for a desktop PC built for playing Roblox?
For a desktop PC built for playing Roblox, we recommend having at least 256 GB of storage. This should be sufficient for storing the game itself, as well as any other programs or files you may need.
3. What kind of cooling system should I use for my Roblox desktop PC build?
To prevent your Roblox desktop PC from overheating, we recommend using a high-quality cooling system, such as a liquid cooling system or a powerful fan. Make sure to monitor your PC's temperature regularly to ensure that it stays within safe levels.
4. How can I optimize my Roblox desktop PC build for the best performance while gaming?
To optimize your Roblox desktop PC for the best gaming performance, we recommend upgrading your hardware components to meet or exceed the recommended specifications for the game.
Additionally, you can optimize your PC's performance by keeping your drivers up to date, minimizing the number of background processes running, and disabling unnecessary visual effects.
Regular maintenance, such as cleaning your PC's hardware and optimizing its storage space, can also help to ensure that it runs smoothly while gaming.
More Gaming Build Guides
More Work Build Guide