Few games out there hold the same influence as Fortnite does. This isn't a game that is only popular with some remote segment of the gaming industry. Quite contrary, this is a title that has actually made a cultural impact.
From creating new celebrities to starting a victory dance culture, Fortnite has cemented its way to becoming one of the most well known gaming titles of the industry.
The game is essentially a third person game set in the classic Battle Royale genre where you have to gather resources and fight to survive until you are the last player standing.
As far as its eSports nature goes, this title holds the position of being one of the LARGEST eSports game at the moment placing itself in the top 5 in terms of overall prize money awarded.
In fact, there is a whole section of the game dedicated to professional competitive game play. Everyone can earn their way into the flagship cash prize tournaments, which is a great incentive for many to hone their skills at this game.
It is perhaps for this reason that a large number of gamers invest in a good gaming rig for Fortnite. Of course, a good gaming PC, a one that meets the Fortnite hardware requirements with ease, can allow you to have a competitive edge over your opponents.
Fortunately, Fortnite is a light game. Hence, the recommended PC for this game does not have to be an expensive machine. The minimum and even the recommended requirements of the game are designed so that a majority of the players can enjoy the game with ease at respectable frame rates.

What is Fortnite and Why is it So Popular?
When the game was originally released back in 2017, it was essentially a third person co-op shooter. The aim of the original game mode "Save the World" was to gather resources, build forts and fend of against hordes of zombies either by yourself or with a team of 4 players.
The original game cost as much as any AAA title would.
However, later in the same year, the game released a new standalone free-to-play mode called the Battle Royale mode. This is what really catapulted the success of the game.
The Battle Royale mode was partly inspired by the PlayerUnknown's Battleground's released earlier in 2017. But originally this game mode takes its ultimate inspiration from a Japanese Action-Thriller film with the same name i.e Battle Royale released in 2000 in which a group of students is forced to fight to death.
What is Fortnite Battle Royale Mode?
Fortnite Battle Royale is currently the flagship game mode of the game where up to a 100 players fight off against each other to death.
You can play this game in either solo mode or in groups of upto 4 players.
Basically as the game starts, you are first parachuted on a huge island. You then collect resources, weapons, and armor to build fortifications and to kill off your opponents.
At the same time as the game progresses the EYE OF THE STORM starts to shrink as well. The eye of the storm is basically a large circle that gradually gets smaller and smaller.
Anyone inside the Eye of the Storm is in the safe zone whereas anyone outside takes damage and ultimately dies. The aim of this circle is to basically force players into an encounter. So essentially it works as a timer for the game and also as an excellent anti-camping mechanism.
The last player or the team standing wins the game.
Spare a Sec for a Brief Poll
The following survey will help me improve the article and will only take you about half a sec to complete. : )…
Why Is Fortnite So Popular?
There are plenty of reasons for this game's popularity, we list a few here:
The game is free-to-play so it has no barriers of entry as far as finances are concerned. Therefore, gamers of all ages groups and demographics can enjoy the game.
Requires a weak PC hardware this further removes the barriers of entry.
Cartoon-like graphics and very light hearted art style makes this a favorite among not just professional but also casual gamers.
It has a huge competitive scene with the game being ranked in top 5 in terms of the overall prize eSports prize pool.
Constant content updates keep the game fresh.
Fortnite – One of the Most Popular eSports Games
As mentioned earlier, Fortnite is huge in eSports. There is in fact whole section of the game dedicated to its competitive aspect.
There are two aspects of the competitive aspect of this game
Arena – The normal mode where you earn HYPE POINTS
Fortnite Champion Series – The flagship Fortnite eSports series with prize pool.
What is Fortnite Arena?
So basically this is the default game mode where you play and earn hype points.
As you earn Hype Points, you climb the Hype Leaderboard and progress further into various leagues.
Once you have gathered enough Hype Points and reached the Champion League, you can then look into your chances for the flagship Fortnite Champion Series.
What is Fortnite Champion Series?
Fortnite Champion Series is the ultimate tournament series where Champion ranked players and Champion ranked teams compete against each other.
This tournaments series has the biggest rewards and the biggest cash pool prize.
Qualifying for the Championship seasons is an arduous task and only the biggest teams and Fortnite stars qualify for the finals.
Build Guide for Fortnite
Overall, Fortnite is a relatively light game and does not require an extraordinary PC hardware in order to run it. Therefore, your PC Build for Fortnite DOES NOT have to be expensive.
The game, like most online eSports games out there, has intentionally been designed to be light on demand so that it can appeal to a majority of gamers.
This is in part thanks to the extensive graphics settings which caters to both who play on budget PCs as well as to those who play on high end gaming rigs.
As such, there is a huge difference between the minimum and the recommended requirements for the game. The minimum requirements would appeal to budget gamers, whereas the recommended requirements appeals to those who have a high end system.
But as far as running the game and enjoying it on respectable frame rates goes, a low to low-mid range gaming PC can suffice.
In the following text we will review what the official system requirements for Fortnite PC Build are and then breakdown the recommendations/benchmarks for each component.
Official Fortnite System Requirements
The following are the official system requirements for Fortnite.
Minimum Requirements
CPU
Intel Core i3-3225 (3.3 GHz)
GPU
Intel HD 4000 on PC
Intel Iris Pro 5200 on Mac
RAM
4 GB DDR4 RAM
Hard Drive
30 GB (May change overtime as the game updates and gets bigger)
Operating System
Windows 7 (64 Bit) or Newer
Mac OS Mojave 10.14.6
Recommended Requirements
CPU
Intel Core i5-7300U (3.5 GHz)
GPU
NVIDIA GTX 960
AMD R9 280
RAM
8 GB
Hard Drive
30 GB (May change overtime as the game updates and gets bigger)
Operating System
Windows 7 (64 Bit) or Newer
Mac OS Mojave 10.14.6
New Epic Quality Recommendations
Epic recently improved the graphics for Fortnite (Starting Chapter 2 Season 7 and onwards). As such, due to the graphic overhaul, the game now demands better hardware specifications for running it on EPIC graphics settings.
Essentially with this new upgrade, the current High Settings is equivalent to the EPIC Settings of the past version.
CPU
Intel Core i7-8700
AMD Ryzen 7 3700x
GPU
Nvidia GTX 1080
RAM
16 GB
Hard Drive
30 GB (May change overtime as the game updates and gets bigger)
Operating System
Windows 10 (64 Bit) or Newer
It can seen from the official system requirements that there is huge spectrum of PC hardware that this game can support. It is almost a miracle that the game is designed in a way that it can cater to lower end gamers (gamers who have nothing more than an iGPU) all the way to gamers who are running it on high end systems.
Of course, the visuals of the the game will vastly differ when comparing Low and EPIC settings, but as far as the competitive gameplay goes it would not have much of an effect.
A gamer playing the game on a potato PC may well outperform a gamer playing on a high end gaming rig that costs thousands of dollars.
As it stands, this is how the Fortnite System requirements are designed:
Minimum Requirements: Will meet Low Graphics Preset
Recommended Requirements: Will meet High Graphics Preset
Epic Requirements: Will meet Epic Graphics Preset
With that said, let us talk in depth about the hardware components the game requires.
I. CPU Requirements for Fortnite
The official requirements allude to three different categories of processors:
Low End: Intel Core i3-3225 (3.3 GHz)
High End: Intel Core i5-7300U
Epic: AMD Ryzen 7 3700x
Low End Category CPUs for Fortnite
In the first category we can see that if you a low budget, you can aim for a weak system. As you will see in the benchmarks below, even the entry level CPUs of today can easily surpass the dual core Intel Core i3-3225 released back in 2012.
Therefore, if you are building a gaming desktop PC for Fortnite TODAY, then meeting the minimum requirements would not be an issue at all.
High End Category CPUs for Fortnite
The second category defines the CPU recommended for playing the game at high graphics.
Note that the CPU mentioned here is a mobile processor released back in 2017. The Intel Core i5-7300U is also a dual core CPU. Again, for the current gen desktop CPUs, beating the performance of mobile grade CPU released back in 2017 would not be an issue.
The point being made here is that you are not required to have a top of the line CPU to enjoy the game at high graphics.
Epic Category CPU for Fortnite
The Intel Core i7-8700 and the AMD Ryzen 7 3700X are a much beefier processors than the ones recommended for the high end build above. CPUs in this category are reserved for the top of the line PCs for Fortnite and are intended for pros.
In all honesty, unless you stream Fortnite gameplay, you do not need a CPU which features 8 cores and 16 threads. Intel Core i7-8700 and the AMD Ryzen 7 3700X are an overkill for playing Fortnite alone.
The disparity between the high-end recommendations and the Epic recommendations is too great. While the high end category recommends having a dual core CPU, the Epic settings recommend having a whopping octa processor. That is a huge jump in specs imo.
The game doesn't even use that many CPU cores.
So again why go for the Intel Core i7-8700 or the AMD Ryzen 7 3700X? Essentially, the CPUs recommended here are, in my opinion, for Fortnite streamers.
Streaming can devour your core count. In fact, if you have any kind of screen recording app running in the background while playing a game like Fornite, you need to supply your PC with a lot of cores.
The more cores you have, the smoother will be your streams at higher resolution as more cores equals faster rendering.
So What Current Gen CPUs Do I Recommend for Fortnite?
The game generally points towards having a dual core and a four thread processor judging from its Minimum and Recommended requirements.
To gauge how the current gen CPUs stack up against the recommended CPU, the following table and benchmarks should help.
Note that the Passmark benchmarks shows the overall score of the processor. When looking for a streaming build, you would rather look at the multi-core performance of the CPU. For that we recommend the Cinebench R15 benchmark scores. (Scores shown below)
CPU
Specs
Passmark
Benchmark
Remarks


Intel Core i3-3225




(MSRP $134)




Released: 2012)



2 Cores
4 Threads
3.06 GHz
2193
Official MINIMUM Requirements
Intel Celeron
G5900
(MSRP $42)
2 Cores
2 Threads
3.5 GHz
2768
For Low End Build

Intel Core i5-7300U (Released: 2017)



2 Cores
4 Threads
3.5 GHz
3748
Official RECOMMENDED Requirements
Intel Pentium
Gold G6400
(MSRP $64)
2 Cores
4 Threads
4.00 GHz
4173
Entry-Level: Meets Recommended Requirements
AMD Athlon
3000G
(MSRP $50)
2 Cores
4 Threads
3.5 GHz
4455
Entry-Level: Meets Recommended Requirements
AMD Ryzen
3 3200G
(MSRP $99)
4 Cores
4 Threads
4.0 GHz
7226
For Mid Range Build
Intel Core
i3 10100
(MSRP $122)
4 Cores
8 Threads
4.3 GHz
8823
For Mid Range Build
AMD Ryzen
5 3400G
(MSRP $$150)
4 Cores
8 Threads
4.2 GHz
9372
For Mid Range Build
AMD Ryzen
3 3100
(MSRP $$99)
4 Cores
8 Threads
4.0 GHz
11723
For Mid Range Build
AMD Ryzen
3 3300X
(MSRP $120)
4 Cores
8 Threads
4.3 GHz
12739
For Mid Range Build
Intel Core i7-8700
(MSRP $303
Released: 2017)
6 Cores
12 Threads
4.6 GHz
13082
Official Recommended for EPIC Settings
Intel Core i5-10600K
(MSRP $272)
6 Cores
12 Threads
4.8 GHz
14549
For Epic Settings / Fortnite Streaming
AMD Ryzen 5 3600X
(MSRP $250)
6 Cores
12 Threads
4.4 GHz
18316
For Epic Settings / Fortnite Streaming
Intel Core i7-10700K
(MSRP $384)
8 Cores
16 Threads
5.1 GHz
19474
Fortnite Streaming at High FPS or High Resolution
AMD Ryzen 5 5600X
(MSRP $299)
6 Cores
12 Threads
4.6 GHz
22163
For Epic Settings / Fortnite Streaming
AMD Ryzen 7 3700X
(MSRP $329)
8 Cores
16Threads
4.3 GHz
22788
Official Recommended for EPIC Settings

Intel Core i7-11700K (MSRP $409)

8 Cores




16 Threads




4.5 GHz

25025

Fortnite Streaming at High FPS and High Resolution

AMD Ryzen 7 5800X ($449)

8 Cores




16Threads




4.7 GHz

28522

Fortnite Streaming at High FPS and High Resolution
The CPU according to the official requirements are colored in blue
Passmark scores are taken from cpubenchmark.net
Basically what you can deduce from here is that there are two types of CPU recommendations:
Non Streaming Build CPUs (4 Cores or less)
Streaming Build CPUs (More than 4 Cores)
Cinebench R15 Single Core Performance Scores
If you are a non-streamer, you would ideally want to go for a CPU with the best single core performance in your budget category.
Cinebench R15 Multi Core Performance Scores
If you are a Fortnite streamer, you would preferably want to go for a CPU with the best multi-core performance in your budget category.
You have to balance and gauge for yourself whether you value a better single core performance or a better multi-core performance.
The comparison between the Intel Core i7-10700K and the AMD Ryzen 5 5600X is a prime example here. The former has an excellent multi-core performance, while the latter has an excellent single core performance.
If for instance you are considering either of these two, then for a streaming PC for Fornite, Intel Core i7-10700K would be the ideal choice. For non-streaming Fortnite PC build, the AMD Ryzen 5 5600X would be the wiser choice.
How Many Cores Does Fortnite Actually Use?
Fortnite requires 2 cores judging by the CPUs mentioned in the minimum and recommended requirements of the game.
Both the Intel Core i3 3225 and the Intel Core i5 7300U are dual core processors with hyper-threading enabled. So 2 cores / 4 threads.
In fact, this is also confirmed by a test done by Tomshardware:
Two of our Ryzen processor's cores are more heavily utilized than the rest – Tomshardware
This is consistent with my test as well:
I tested the game on an Intel Core i7-7700HQ 4 Core / 8 Threads processor. At no point did any of the cores saturate. Indicating that four cores and eight threads are an overkill.
At the same time, only 2 cores were utilized more than the rest. This is consistent with the claim made by Tomshardware and indicates that this game is in fact a dual core game predominantly.
However, I would personally recommend that you go for at least a quad core CPU because most systems today have a lot of background services and applications running. The more background apps you have running the more you will benefit from a higher core count.
Summary
Any CPU beyond 4 core count is practically a CPU for Fortnite streaming build.
For a casual and a professional gamer who DOES NOT stream, any current gen CPU from the entry level and the budget segment would be quite sufficient.
In an attempt to save your from the hassle of system lags or a bad experience, I do not recommend going for the entry level AMD Athlon or the Intel Celeron CPUs. However, if you are absolutely on a tight budget, even these would suffice.
The sweet spot in my opinion are the 10th gen Intel Core i3 and 3000 series AMD Ryzen CPUs. These quad core CPUs have enough juice for a highly capable Fortnite Gaming PC build. They beat the Intel Core i5-7300U (as stipulated in the recommended requirements) by a long shot.
Fortnite Streaming CPUs
If you are Fortnite streamer, than that is a completely different ball game. x264 software encoding on platforms like Twitch or YouTube can utilize A LOT of your CPU power.
Encoding can be taxing on your system. x264 will utilize a lot of your CPU, resulting in lower FPS. – Twitch.tv
The higher the FPS or the higher the resolution of your game, the beefier the CPU you will need for encoding the data for streaming.
Basically, for casual 1080P streaming at 60FPS a 6 core current gen CPU would sufice. However, for streaming beyond 60FPS or at higher resolution i.e QHD or 4k, an 8 core CPU may be warranted.
To gauge how well a CPU will perform for streaming, its multi-core performance is a very important parameter
More Cores for Demanding Stream Settings
The more demanding the encoding settings are the more cores you need. Essentially, the higher the quality of the streams you want, the more cores you will need.
According to Twitch,
Presets above Faster require CPUs with 6+ cores. – Twitch.tv
Faster preset on Twitch requires fewer cores where as the slower the preset the more cores you need.
This is because on slower preset, the CPU cores will work harder and at slower pace to ensure a high image quality.
Therefore, on slower preset your FPS can take a hit if you do not have a high enough core count. The higher the core count, the more resources the CPU has for the game and for encoding to take place at high quality simultaneously.
II. Graphics Card for Fortnite
Just like with CPUs, there are three levels of recommendations for Graphics Card for Fortnite as well:
Entry: Intel HD 4000 or Intel Iris Pro 5200 – For Bear Minimum
High: Nvidia GTX 960 or AMD Radeon R9 280 – For High Preset
Epic: Nvidia GTX 1080 – For Epic Preset
To understand the power of these GPUs, it would be best to benchmark these a long with a list of other recommended Graphics Card for Fortnite. (Benchmark Provided Below)
Can You Play Fornite on an Integrated GPU like an Intel HD Graphics Card?
While the minimum requirements of the game do point to the fact that it can work on an Intel HD 4000 integrated CPU released all the way back in 2012, I have to check this by myself.
Therefore, below I have tested the game on my integrated GPU, the Intel UHD 630, running on a system with Intel Core i7-7700HQ and 16 GB of RAM.
Testing on Intel UHD 630
Low Settings and 3D Resolution to 100% (FHD)
So first I tested the game by setting it to FHD resolution, low settings and keeping the 3D Resolution to a max 100%.
Here is a screenshot of the frame rates:
At 100% 3D Resolution setting the game was barely playable. It constantly hovered at 23-25 FPS and this is only in idle creative mode. You can expect more frame drops if you play it in an action packed game.
Testing on Intel UHD 630
Low Settings and 3D Resolution to 50% (FHD)
After dialing down the 3D resolution to about 50%, I started to get awesome results with my frame rates:
I was getting about 60 FPS constantly even on an Intel UHD 630 – one of the weakest graphics cards there is:
While the game did maintain very smooth 60 FPS, it looked absolutely horrendous. The graphics were too pixelated for my taste.
But the point to note here is that the game DOES work on an integrated graphics card.
How does the Game Play on a
Mid-Range

NVIDIA GTX 1050Ti

I will now test the game on my mid range NVIDIA GTX 1050Ti (Mobile) graphics card.

In terms of benchmark scores the NVIDIA GTX 1050Ti sits almost in between the least recommended Intel HD 4000 and the recommended GTX 1080 Fortnite graphics cards.

As such you can already assume that this GPU would be suitable for about medium t0 medium-high graphics.

But here are the results. The game was tested at 100% 3D resolution and FHD resolution.
Low Settings: FHD
At low settings, the game as expected worked flawlessly.
In fact I could have certainly benefited from a monitor with 120 Hz refresh rate as I was consistently getting between 105-120 FPS.
Medium Settings: FHD
At medium graphics the game worked just right.
I was getting about 78-80 FPS in an idle state. In intense action packed scenario the game would certainly drop some frames. But it would still maintain a higher than 60 FPS.
Therefore, as far as consistent 60FPS gameplay goes, this mid range 1050Ti(mobile) with a G3D Mark score of 5919 is just perfect.
High Settings: FHD
At high settings, the frame rates were hovering between 45-50 FPS indicating the game was now pushing the limit of the graphics card.
45-50 FPS is still a very respectable frame rate considering the fact that many gamers still find 30FPS a playable frame rate.
Therefore while you can still play on High Graphics on this graphic card, you won't be getting the perfect 60 frame rate. With action packed gameplay or with a lot of structures and assets loaded up towards the end game especially, the FPS will most certainly drop a few points here too.
Epic Settings: FHD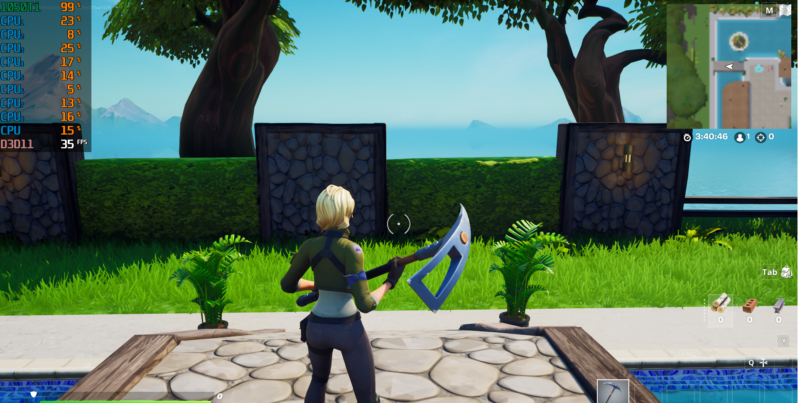 The Epic Settings was death knell for this graphics card. At this point the game could barely maintain a higher than 30 FPS.
For the right PC for Fortnite, the game recommends investing on an NVIDIA GTX 1080 for Epic settings. In reality, NVIDIA GTX 1080 with a G3DMark score of 15121 is an overkill for EPIC graphic settings preset at mere FHD resolution. With GTX 1080 you can play at EPIC settings AT QHD resolution.
G3D Mark Benchmark
GPU
G3DMark

Year of Release

Remarks


Intel HD 4000



332
2012
Official MINIMUM Requirements
Intel HD 5200
830
2013
Official MINIMUM Requirements
Intel UHD 630

1381
2017
I tested the game above on this
Intel UHD 750
1688
2021
– As found 11th Gen Intel CPUs
– For Budget Build
AMD Radeon RX 560
3636
2017
Medium Graphics Preset
NVIDIA GeForce GTX 950
5409
2015
Medium-High Settings
AMD R9 280
5605
2016
Official RECOMMENDED Requirements
NVIDIA GeForce GTX 1050 Ti (Mobile)
5919
2019
Medium Graphics for 60 FPS or higher

High Graphics for between 40-50 FPS
(I Tested above on This GPU above)

NVIDIA GeForce GTX 960
6036
2015
Official RECOMMENDED Requirements
NVIDIA GeForce GTX 1050 Ti (Desktop)
6329
2016
High Graphics
AMD Radeon RX 580
8858
2017
High Settings | > 60 FPS
NVIDIA GeForce GTX 1060
9875
2016
High Settings | > 60 FPS or QHD Resolution
AMD Radeon RX 5600
10879
2020
High Settings | > 60 FPS and QHD Resolution
NVIDIA GeForce GTX 1660 Ti
11818
2019
High Settings | > 60 FPS and QHD Resolution
NVIDIA GeForce GTX 1070 Ti
14308
2017
High Settings | > 60 FPS and QHD Resolution
NVIDIA GeForce GTX 1080
15121
2016
OFFICIAL GPU for EPIC SETTINGS @ QHD

AMD Radeon RX 5700 XT
16833
2019
Epic Settings | > 60 FPS or QHD Resolution
NVIDIA GeForce RTX 2080
18652
2019
Epic Settings | > 60 FPS or 4K Resolution
AMD Radeon RX 6700XT
18730
2021
Epic Settings | > 60 FPS or 4K Resolution
AMD Radeon RX 6800 XT
23420
2020
Epic Settings | > 60 FPS AND 4K
NVIDIA GeForce 3080Ti
26429
2021
Epic Settings | > 60 FPS AND 4K
Notes:
Anything better than AMD Radeon RX 580 can support the EPIC settings BUT ONLY AT FHD Resolution
G3DMark Source: videocardbenchmark.net
The chart above shows the graphics cards and their relevant resolution and FPS. The data regarding the FPS and resolution information is gathered from userbenhcmark.com and gpucheck.com.
Again a gaming PC for Fornite can range from a basic machine that plays the game at 720P, low graphics preset all the way to a beast of a gaming rig that could play the game at Epic settings, 4k resolution while maintaining frame rates higher than 60 FPS.
It all depends upon your budget but the flexibility of the graphics settings offered by the game allows it to be enjoyed by a wide strata of PC gamers.
Does Fortnite Use Ray Tracing?
Yes Fortnite DOES support ray tracing as well as NVIDIA DLSS.
Therefore if you have a ray tracing capable dedicated graphics cards like the NVIDIA RTX 2000 series GPU, NVIDIA RTX 3000 GPU or the top 6000 series AMD GPUs then you can enjoy the beautiful ray tracing elements in Fortnite.
Also Read: Do You Need a Graphics Card for Fortnite?
III. RAM Requirements for Fortnite
According to the official requirements, you need 4, 8 or 16 GB DDR4 RAM depending upon whether you go for minimum, recommended or Epic requirements.
How Much RAM Does Fortnite Actually Use?
In all reality, the game itself does not even come close to utilizing 4 GB RAM let alone 16 GB DDR4 RAM.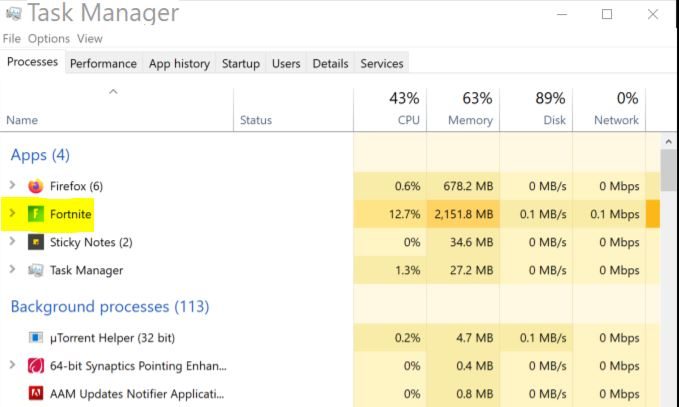 I tested the game on my system with Intel Core i7-7700HQ, 16 GB DDR4 RAM, NVIDIA GTX 1050Ti.
According to my tests, the game utilizes about 2.15 – 2.2 GB GB DDR4 RAM.
So Why Go for 8 or 16 GB RAM When Fortnite Does not Use Even 4 GB?
Yes, its true that the game does not utilize a lot of RAM, however, every system has background applications running which can eat up your RAM as well so you have to take that into consideration too. The more robust apps you have running in the background, the more RAM will be reserved.
Take my PC above for instance. You can see in the task manager above that 63% of my total 16 GB memory is being utilized at the time I captured this screenshot.
63% of 16GB equals 10.08 GB. If I subtract the 2.2 GB RAM used by the game, that would equate about 8 GB of RAM being used by the background apps and system services!
Hence, to run the game smoothly with my current PC configuration and apps installed, I would need at least 11 GB of RAM (give or take a GB).
Now if I had a streaming application running in the background as well, that would have skyrocketed the RAM usage resulting in me requiring perhaps more than 16 GB of RAM.
As such, a good PC for Fortnite may easily require 8 GB DDR4 RAM. But the right PC Build for Fortnite, one that is capable of professional streaming, could easily warrant 16 GB or more RAM.
You Can Reduce Your Memory Usage
Of course 8 GB of RAM being used up by my system above is certainly not ideal. I could save up a lot by closing off some of the background apps, however, I do have the luxury of keeping them open since I have enough RAM.
If I had only 8 GB of RAM, I would have certainly been compelled to close a lot of the background applications off for smooth running of the game and the PC.
Stick to Basic RAM Specs
I recommend that you stick with basic DDR4 RAM specs meaning a nominal 3000-3200MHz frequency and CAS Latency of 16 or 18.
Corsair Vengeance LPX DDR4 RAM kits are the obvious choice for most gamers. They look good, are popular, have a great value and are reliable.
However, you can also find cheaper RAM sticks by choosing a lower frequency or a higher CAS latency stick.
If you are an enthusiast with a good budget to spare for your PC for Fortnite, you could even find DDR4 RAM sticks with RGB lights such as the Corsair Vengeance RGB Pro at a slightly higher price tag than normal.
Also Read: How to Tell if RAM will Work with Your Motherboard?
IV. Hard Drive Requirements for Fortnite
There isn't any specific requirement for a storage drive for Fortnite. At the time of writing this article, the game occupied about 30 GB of hard disk space, but this number will certainly grow as the game releases newer content and updates.
As far as my personal hard drive recommendations go, I would suggest getting an NVMe SSD in a heart beat.
Let us look at some basic information regarding the hard drive so you can better gauge the better option for yourself.
There are essentially three types of hard drives that you can get for your Fortnite PC:
1. Hard Disk Drive
These are your average spinning hard disk drives that connect to the SATA ports.
These are large, slow, but very cheap. A good 2TB Seagate BarraCuda 7200 RPM hard disk drive can cost you about $55. Thus if you have a limited budget but want to maximize your storage capacity, then hard disk drives are still the way to go.
At best, hard disk drives have transfer rate of about 200 MB/s. This is a lot slower than even the slowest SSD out there.
While Fortnite itself won't benefit much from a faster hard drive once its loaded and running, the rest of your experience on your PC will.
Also Read: How many SATA ports do I have?
2. SATA SSDs
SATA SSDs also connect to the SATA ports on your motherboard. These have a transfer speed of 550 MB/s but are quite expensive.
A 500 GB SATA SSD can cost you $60.
The only advantage they have is that they can interface with a SATA port which can be found in abundance on any motherboard.
But other than that, I would not recommend these. Instead, I recommend the NVMe SSDs which cost the same as SATA SSD but are multiple times faster:
3. NVMe SSD


Image: Seagate 3TB BarraCuda SATA vs Samsung SSD 850 EVO vs Samsung 970 EVO NVMe Source/Credit: Jollibeee86 Reddit
The NVMe SSDs use the PCIe interface. They plug into the dedicated M.2 slot found on almost all newer motherboards these days.
The awesome part about NVMe SSDs is of course the performance. A gen 3 NVMe SSD utilizes the PCIe 3.0 interface and can reach read speeds of a whopping 3500 MB/s.
A Gen 4 NVMe SSD utilizes the PCIe 4.0 interface and can reach read speeds of 7000 MB/s theoretically (5000 MB/s typically).
They cost almost the same as a SATA SSD.
Compared to the a normal HDD, NVMe SSD is still 4 times as expensive if you have to take the per GB cost, but the performance gains are at least 15 times as much.
| | |
| --- | --- |
| Storage Type | Read Speeds |
| Hard Disk Drive | 200 MB/s |
| SATA SSD | 550 MB/s |
| Gen 3 NVMe SSD | 3500 MB/s |
| Gen 4 NVMe SSD | 7000 MB/s |
Also Read: How many PCIe Lanes Does M.2 Slot Use?
So Should You Go an SSD for Your Fortnite PC Build?
I would recommend that you do so if you value a smooth running PC. Unless you are on a very tight leash with your budget, there is absolutely no reason why you should not consider investing on an NVMe SSD.
Many also opt for a combination of an NVMe SSD and HDD. Here the NVMe SSDs serve as the primary drive for the OS and for installing the games, whereas the HDD serves as an archival drive for saving up media and large files.
Again, it should be reiterated here that as far as the performance scores and FPS of Fortnite goes, the choice of your hard drive will have no impact once the game is loaded up.
This is because once the game is up and running, it utilizes the RAM for storing temporary data NOT the HDD. This is the way all apps and games are designed.
V. Motherboard for Fortnite
As is the case with all gaming PC builds, for a PC for Fortnite, the motherboard should ideally cost about half as much as the CPU.
So if you go for a CPU worth $150, it would be wise to go for a motherboard that costs half as much.
While this isn't a rule of thumb, it is a great guideline to follow. This is because there should be a parity between the CPU and the motherboard specs.
It would be unwise to spend a lot on a CPU yet cheap out on a motherboard.
So for instance, if you choose to go for an AMD Ryzen 7 5800X yet the motherboard of your choice is an AMD A520, you will have serious disparity between the two.
While the CPU will certainly work, as the AMD A520 offers the compatible AM4 socket, it just does not have the right VRM size, phase power design or even the heat sinks to stably deliver power to a beast of a CPU.
Which brings us to motherboard Chipsets:
Motherboard Chipset to Choose for Fortnite
Depending upon your build, the motherboard chipset you choose will vary.
The chipset is a very important consideration as it determines a lot of the specs directly and also indirectly reflects upon your overall budget.
Among other things, the chipset determines:
The socket for the CPU
How many PCIe lanes it has
The VRM size and phase power design
Whether it is overclockable or not
SLI/Crossfire support
Amount of ports and slots and their version
There are three series of chipset by both Intel and AMD for consumer grade motherboards.
AMD Motherboard Chipsets
AMD has the following motherboard chipset series:
A series, such as the A320 and the A520 for budget builds
B series, such as the B450 and B550 for mid range builds
X series, such as the X470 and the X570 for enthusiasts and high end build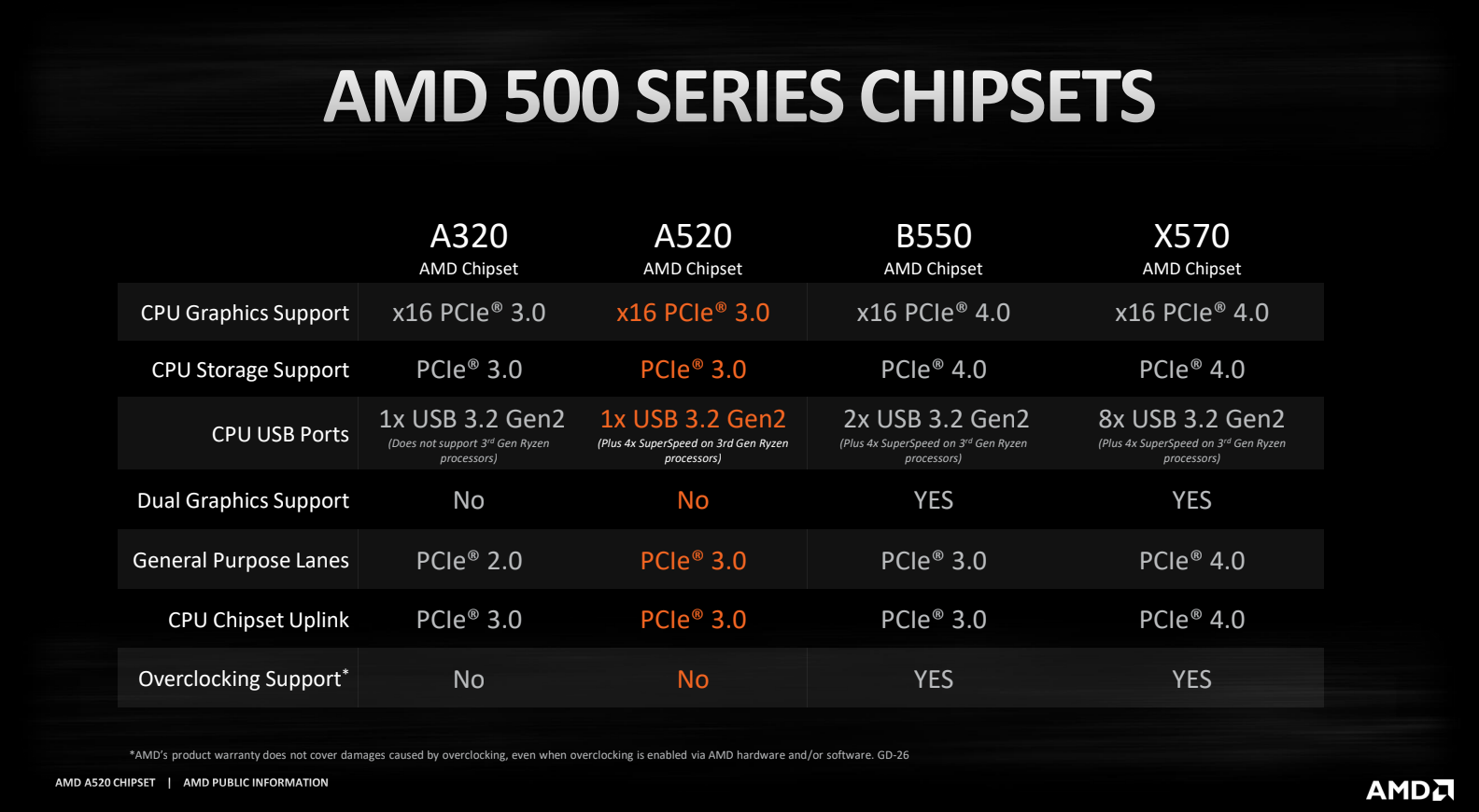 The table above summarizes the basic differences between the AMD chipsets.
If you want to build a budget PC for Fortnite, then I would recommend the A320 or the A520 chipset. Motherboards with the A320 chipset are perhaps the cheapest for the AM4 socket.
The problem with A series chipsets is that they do not feature overclocking and they have weak VRMs (voltage regulator modules). Hence, they are not ideal for powerful CPUs.
There is also the issue with the PCIe version. The newer B series and X series motherboards offer the PCIe v4.0, which the A series does not.
For mid range PC build for Fortnite, the B series chipset is recommended as it supports overclocking. But if you want to build a powerful gaming rig with an AMD Ryzen 7 or Ryzen 9 CPU, then the X570 is recommended.
Intel Motherboard Chipsets
Intel also has three popular series for consumer grade boards:
B series, such as the B460 and the B560 is intended for budget builds.
H series, such as the H510 is intended or mid range builds
Z series, such as the Z490 and Z590 is for high end builds
Unlike with AMD where both the midrange B series and the high end X series does support overclocking, with Intel only the Z series supports overclocking, which is quite unfortunate.
There is also the difference of PCIe lanes, VRM design, version of the USB and PCIe interface etc between the chipsets.
You can learn more about difference here.
More Gaming Build Guides
More Work Build Guide