Desktop computers that come with onboard or built-in WiFi are rare. This leaves many users who wish to connect wirelessly with two popular options: a USB WiFi dongle or a PCIe card.
But the question is, which one is better when it comes to PCIe vs. USB WiFi?
As far as the performance goes, PCIe WiFi delivers better speeds. On the other hand, USB WiFi is cheaper, portable, and easier to install.
Therefore, both options are great for the average user, and each will come with pros and cons, which we will explore in the text below.
PCIe WiFi Card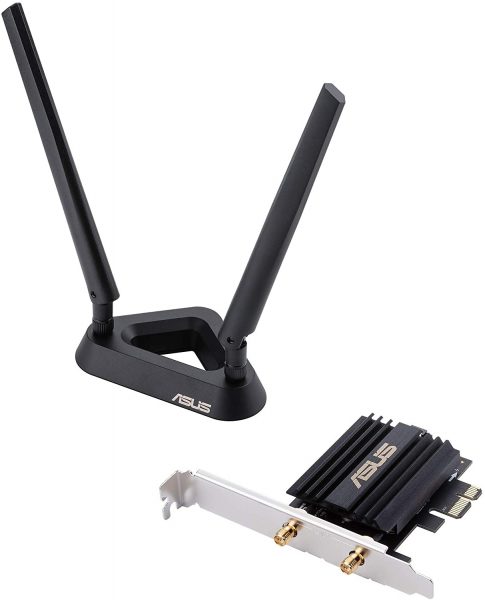 A PCIe WiFi card is a relatively affordable expansion card often installed in desktop PCs to add WiFi and Bluetooth connectivity options.
Again, it is essential to note that the WiFi card DOES also comes with Bluetooth functionality.
The cards typically come with one or more antennas which can improve network reception. This increases the network range and stability.
Like a graphics card, a WiFi card also plugs into a PCIe slot on a motherboard. However, the lane requirement for a WiFi card is far lower than a graphics card's requirement.
Slot and PCIe Lane Requirements for WiFi Card
A PCIe WiFi card requires only a single PCIe lane and thus only requires the most undersized x1 slot to connect.
To understand why a PCIe WiFi only requires an x1 slot, you must understand the PCIe lanes, throughput rate, and PCIe version.
For this, we recommend reading: Which PCIe Slot of Wireless Card?
A typical WiFi 6 (802.11AX) card has a max transfer rate of 2.4 Gbps on a 5 GHz frequency. This is about 300 MB/s.
A single PCIe lane conforming to PCIe version 3.0 has a transfer speed of 985 MB/s. This is more than three times the max transfer rate of the WiFi 6 card, and hence, a single x1 slot is more than enough.
Note there is a lot of difference between Gbps and GB/s; the former is Gigabits per second, and the latter is Giga BYTE per second.
Also Read:
Installation
To use a PCIe WiFi card, you'd have to install the card into a free PCIe slot on your motherboard. As mentioned earlier, an x1 slot should be enough to supply the needed bandwidth.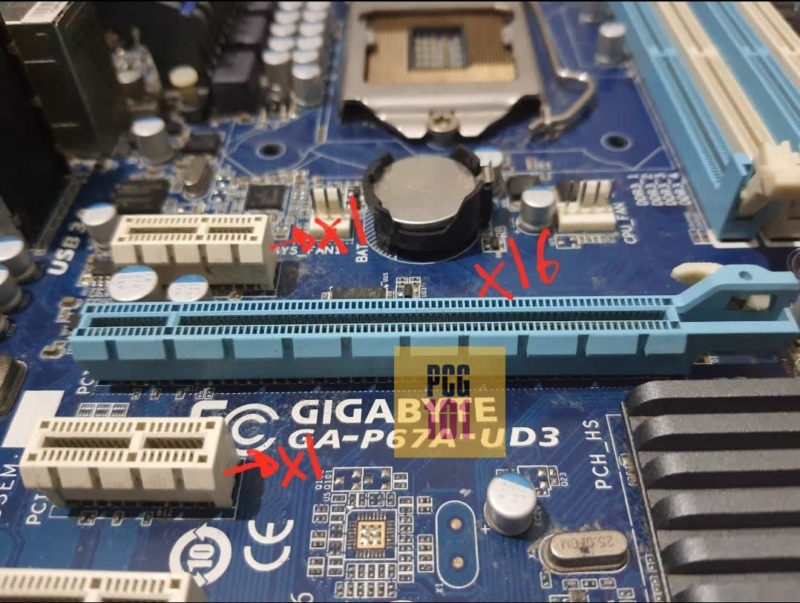 However, if you do not have a free x1 slot, you can plug the card into other larger PCIe slots. However, knowing that putting the card in a more prominent slot, like an x4 slot with 4 PCIe lanes, will not improve the card's performance.
Installing a PCIe wireless card is more tedious than a USB WiFi card. Here, you will need to open up your PC case. Then you must find an empty PCIe slot and plug in the card correctly.
You will also need to tighten the retainer screw to the case, so the card does not fall off when the patient is upright.
Before attempting this, be sure to earth yourself to discharge any electrostatic charges that can damage your system.
Most, if not all, of the newer cards, are plug-and-play. If they are not, the card will often come with a Driver CD or a manual with a link to the website where you can download the drivers.
Also Read: Onboard WiFi vs. WiFi Card vs. WiFi USB
Performance
Actual speeds you get and rated speeds usually vary depending on the card model as well as the physical setting of your system.
For instance, your speed depends on the device's distance, obstructions, and signal strength.
The throughput rate (max transfer rate of the device), or rated speed, is different from the actual pace, and you can use this to compare WiFi modems.
As mentioned, the latest PCIe WiFi 6 cards have an average of 2.4 Gbps (300 MB/s) max transfer speed at 5 GHz frequency and 574 Mbps (71.75 MB/s) at 2.4 GHz Frequency.
Most newer devices operate at 5 GHz frequency and can leverage the faster 2.4 Gbps speeds.
Also Read: Do Motherboards Come with WiFi?
USB WiFi Card
Sacrificing performance for a more compact size and easy installation, USB WiFi adapters are best for people who want a WiFi connection without needing high performance.
As the name suggests, USB WiFi adapters fit into USB ports and connect to a WiFi network.
Their ease of setup can prove very useful for novice and expert users.
Installation
Unlike PCIe WiFi cards, USB WiFi is straightforward to set up. You will hardly need any equipment. You can plug the device in with a free USB port on a computer. Once the drivers are correctly installed, you will be ready to go.
Performance
The performance of a USB WiFi adapter depends on many factors, including the USB port that it is plugged into. Nevertheless, most USB WiFi cards still conform to older WiFi 5 or the 802.11ac protocol.
With this, you can expect speeds of up to 867 Mbps (108 MB/s) for the 5GHz band and 400 Mbps (50 MB/s) for the 2.4 GHz band.
Comparison Between PCIe vs. USB WiFi
WiFi PCIe cards are usually preferred by demanding internet users who want fast speeds, high stability, and more bandwidth. It's also ideal because the card sits inside the case on the motherboard's PCIe slot, providing more stability.
Performance
As mentioned earlier, the PCIe WiFi card performs much better because most newer cards conform to the WiFi 6 protocol. They have a max transfer speed of 2.4 Gbps.
On the other hand, USB WiFi cards still operate at the speed of WiFi 5. They have a max transfer speed of 867 Mbps.
The USB version also has a lot of impact on the performance of the USB WiFi card. Ensure you get a USB 3.0 WiFi Card and not a 2.0 card.
The following video shows how a WiFi 6 card compares to a WiFi dongle in terms of performance.
Ease of Use and Installation
USB WiFi cards are easy to install. They do not require an understanding of PCIe slots, lanes, etc., nor require any skill at opening up the PC case.
USB WiFi cards are also portable and can be used on laptops and desktops.
Installing a WiFi card with a free expansion slot and a free PCIe lane would be best.
Say, for instance, your PC has 16 PCIe lanes, and you already have a graphics card designed to take up all 16 PCIe lanes then your PCIe WiFi card will not work. A typical primary computer has 20 PCIe lanes, fortunately.
Moreover, you must ensure that the intended PCIe slot is exposed and not blocked by other expansion cards. Sometimes, a large graphics card can block the smaller PCIe expansion slots nearby.
With a USB card, that is usually not the issue. Most of the computers have plenty of USB slots. If you do not have a free USB slot, you can get a very cheap USB hub to extend the number of free USB slots. However, doing so may hinder the speed and ping rate performance.
Ping Time/ Latency
Regarding the ping time, a USB 3.0 network card performs as well as a PCIe network card.
The ping depends upon many factors, such as the distance from the WiFi router, the USB version, and whether you use a laptop or a desktop.
The best ping rate you get is on an Ethernet cable connection.
Price Tag
While you can get some bargains, PCIe WiFi cards are typically more expensive than USB adapters.
What Other Option Do You Have?
If you do not like PCIe Card or USB WiFi options, what other opportunity do you have for a high-speed connection without the ugly Ethernet connection?
Well, you have the Powerline adapters.
A powerline adapter is a device that can allow internet connectivity over your existing electrical connection!
The benefit is that you can achieve speeds as fast and stable as an Ethernet connection using two powerline adapters.
To do this, you would put one adapter near the modem and the other near your computer. The setup would give you a lag-free experience.
Powerline adapters are generally used by those who want the best latency, such as gamers, and in scenarios where the modem is located at a significant distance, such as in a multistory home.
If your modem is already placed relatively close to the computer, you won't use the powerline adapter much.
Also Read: Do Motherboards Have Bluetooth?
Final Words
PCIe WiFi cards and USB WiFi adapters are very different for two devices that do the same thing. They are installed differently and also perform quite differently.
One is ideal for power users (PCIe WiFi) who want faster and more stable networks. The other (USB WiFi), which can still provide above-average speeds, is more prominent among regular computer users.
When it comes down to PCIe vs. USB WiFi, a user must answer some questions, the most important of which are what performance levels they're looking for.
PCIe WiFi cards perform better mainly because they conform to the latest WiFi 6 protocol, while USB WiFi cards still do to the older WiFi 5 protocol. This can change in the future, and the performance difference between the two may blur.
FREQUENTLY ASKED QUESTIONS
1. Which is faster: PCIe or USB WiFi adapters?
PCIe WiFi adapters are typically faster than USB WiFi adapters. This is because PCIe offers a faster and more direct connection to the motherboard, which allows for faster data transfer speeds.
USB WiFi adapters, on the other hand, use the USB interface, which can be slower than PCIe.
2. Can USB WiFi adapters deliver the same performance as PCIe WiFi adapters?
While USB WiFi adapters can offer similar performance to PCIe WiFi adapters, they are typically not as fast. This is because USB WiFi adapters are limited by the USB interface, which can be slower than PCIe.
However, USB WiFi adapters are more affordable and easier to install, making them a popular choice for many users.
3. Can I use a PCIe WiFi adapter on a laptop?
No, you cannot use a PCIe WiFi adapter on a laptop. PCIe WiFi adapters are designed to be used with desktop computers, as they require an available PCIe slot on the motherboard.
Laptops do not typically have PCIe slots, and as such, cannot be used with PCIe WiFi adapters.
4. Can I use both a PCIe and USB WiFi adapter on the same computer at the same time?
Yes, it is possible to use both a PCIe and USB WiFi adapter on the same computer at the same time.
However, it is important to ensure that the drivers for both adapters are installed correctly and that they do not interfere with each other.
Using multiple WiFi adapters can be useful for connecting to multiple networks or increasing network speed and range.