When it comes to motherboards, the general idea is to get the cheapest one that has all the required features. So there isn't a one-size-fits-all answer to the question "how much should I spend on a motherboard?" rather, it all depends upon your needs.
Motherboards can cost anywhere between $50 all the way to $1500. Now unless you have very specific needs, spending $1500 is more than just an overkill. In majority of the cases you would spend between $100-$200 on a motherboard. This often equates to about 10% of your overall budget for PC build.
So if you have a budget of a $1000, you would spend 10% of it on a motherboard which equates to about $100.
But as is the case with all PC builds, there should be a parity between all components. Meaning, if you plan to buy a top of the line Intel Core i7 and a high end graphics card, then you shouldn't cheap out the motherboard.
On the flip side, if you only plan to build a PC with only an Intel Pentium or an i3 CPU, it would be futile to get a high end motherboard.
Note that unlike a CPU or a GPU, spending more on a motherboard DOES NOT improve its performance, rather, spending more on a motherboard essentially means increasing the number of features it offers.
Hence, you can think of a motherboard as a checklist of features that you need. Some features cost more, others do not.
TL:DR you should spend:
$70-$120 on motherboard for office, home or novice editing/designing PC
$100-$150 on motherboard for budget gaming builds
$150-$250 on motherboard for mid range gaming builds or intermediate editing/designing PC
$250-$350 on motherboard for high end gaming builds or professional grade editing/designing PC
$350+ on motherboard for enthusiast gamers or workstation PCs.
Different Chipset and Their Prices
I have written a comprehensive article on this topic: How much does a motherboard cost?
But essentially, the chipset of a motherboard is an integral part of where it spends in the price category.
Both Intel and AMD have different chipsets for their motherboards. Intel has the H, B and Z series. AMD has the A, B and X series chipsets for commercial motherboards.
AMD A Series and Intel H*10 Are Considered Budget Chipsets
AMD A series and Intel H series with a 10 suffix are considered budget chipsets. These include:
AMD A320, A520
Intel H510, H610
So if you are looking for just the most essential functions these are the chips to go for. The following table shows some of the budget motherboards.
Motherboard
Socket
Price
Form
Factor
MSI H510M-A PRO
LGA1200
$79
mATX
Asus PRIME H610M-A D4-CSM
LGA1700
$110
mATX
MSI MAG A520M VECTOR WIFI
AM4
$100
mATX
The average cost of a budget motherboard is about $100.
Home and office users take a liking for these motherboards since they are cheap and offer the basic features for low demanding environments.
These are also great for gamers with a very tight budget.
AMD B Series, Intel B*60 Intel H*70 Are Considered Mid Range Chipsets
AMD B series and Intel B series chipsets are considered the favorite among the mid range builders. Most average gamers tend to go for these chipsets.
These include:
AMD B450, B550 chipsets
Intel B560, B660 chipsets
Intel H570, H670 chipsets
Intel H*70 chipsets are a notch better than the Intel B*60 series chipsets.
Motherboard
Socket
Price
Form
Factor
Asus PRIME B660M-A D4
LGA1700
$140
mATX
MSI B560M-A PRO
LGA1200
$90
mATX
MSI MAG B660 TOMAHAWK WIFI DDR4
LGA1700
$190
ATX
Gigabyte B550M DS3H
AM4
$96
mATX
An average motherboard with midrange chipsets cost about $150.
Again, majority of the gamers on a budget prefer to go for these chipsets. These often tend to offer just the right amount of a features an average gamer would need.
AMD X Series, Intel Z*90 Are Considered High End Chipsets
In the top most echelons of the motherboard chipset category are the AMD X series and the Intel Z series chipsets.
These include the likes of:
AMD X470, AMD X570
Intel Z590, Z690
These tend to offer the most features including extensive overclocking facilities.
These motherboards cost about $200-$240 on the affordable side.
However, motherboards featuring these top of the line chipsets can cost as much $1500!
Motherboard
Socket
Price
Form
Factor
ASRock Z590 Pro4
LGA1200
$140
ATX
Asus PRIME Z690-P
LGA1700
$180
ATX
MSI PRO Z690-A DDR4
LGA1700
$220
ATX
Asus ROG Strix X570-I Gaming
AM4
$255
Mini ITX
Asus TUF GAMING X570-PLUS (WI-FI)
AM4
$195
ATX
So How Much Should I Spend on a Motherboard?
Again as alluded to earlier, that depends entirely on your use case and the features you need. I will discuss some of the uses cases below and how much should you spend on a motherboard for each case.
High End Gaming
For gaming rigs that cost between $2000-$3000, you can expect to spend around $250-$350 on a motherboard, if not more.
Essentially you will be aiming to get a motherboard with an AMD X or and Intel Z series chipset with extensive expansion and overclocking support.
You could also be looking to spend a little extra on aesthetics, high quality VRMs and heatsinks.
Often high end gaming motherboards are designed with overclocking in mind.
Mid Range Gaming
For mid range gaming, you can expect to spend about $150-$250.
You can go for entry level Intel Z and AMD X series motherboards or AMD B and Intel B and H series motherboards.
It should be noted for Intel motherboards, going for anything other than an Intel Z series chipset would results in loosing overclocking ability.
To lower the cost, you can opt for mATX motherboards instead of ATX motherboards.
Budget Gaming
Budget gamers can go for:
Low End Intel B*60 series motherboards such as the Intel B560, B660
Intel H*10 series such as the Intel H610
Low End AMD B series motherboards
AMD A series such as A520 series motherboards
Note that the Intel H*10 motherboards and AMD A series motherboards are the most basic motherboards that you can find.
While you can find motherboards much cheaper than $100, I would advice to set aside at least $100-$150 for a budget gaming build.
Home Use and School Use
A home or a school use PC should have a bare minimum motherboard. You can thus opt for the cheapest possible motherboard from a respectable brand.
The most entry level motherboard can be sufficient for this use case and they can cost anywhere between $70 – $100.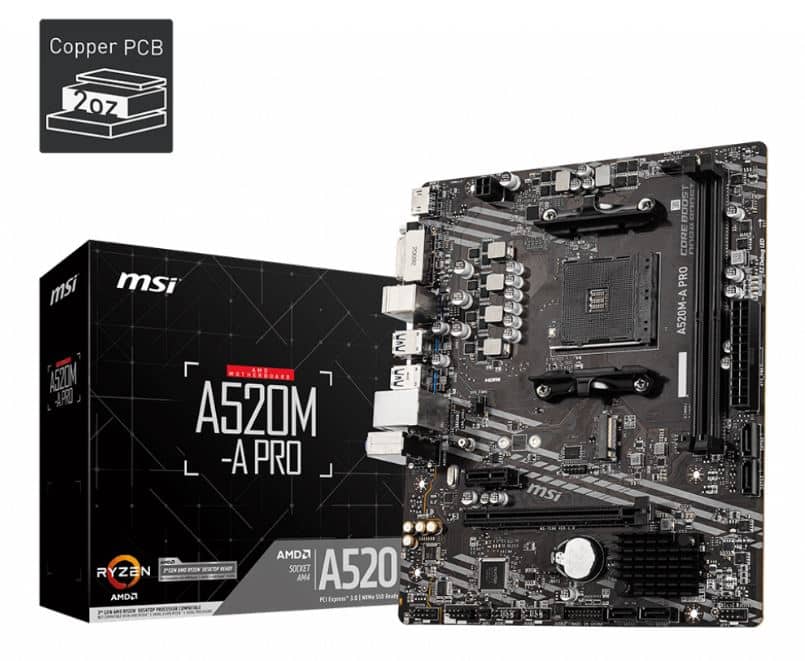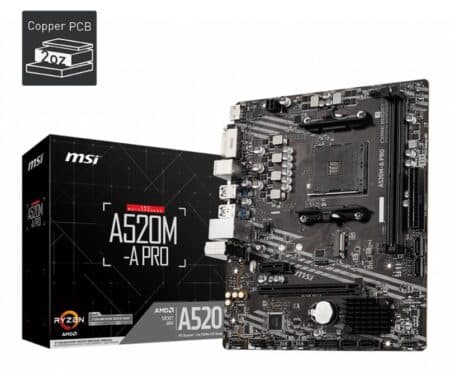 Essentially for this use case, you are looking for a motherboard that the compatible socket for your CPU – which should also be entry level preferably – USB 3.0 ports, and video output ports.
Since these motherboards are intended for gaming, the version of the PCIe slots, the version of the video output ports, number of RAM slots, expansion slots etc. do not really matter much.
Office Use
An office use PC build is almost similar to home and school use PC. Hence, you can expect to pay a similar amount on a motherboard. However, you may opt to go for a motherboard with a built in WiFi so that you can connect to the office network.
Hence you may expect to pay anywhere between $70-$120 for an office PC motherboard.
Professional Work / Editing and Designing
For professionals, designers and editors there is no one set criteria. Essentially the recommended price range for a motherboard is too vast. On the top end spectrum sky is the limit.
If you are a beginner, then you can essentially stick with any budget motherboard. However, if you are an industry expert, then you will essentially need a workstation grade motherboard.
Workstation grade motherboard feature specialized chipsets such as the AMD TRX40 or the Intel X series chipset.
Motherboards featuring these chipsets are loaded with feature and can cost at least $500.
Workstation motherboards are built for workstation grade CPUs such as AMD Threadripper or the Intel Core Extreme CPUs.
Parity Between Components is the Key to all PC Builds
There MUST be a parity between all components.
In other words, if you are planning on procuring a high end Intel Core i7/i9 or an AMD Ryzen 7/9 CPU for your PC, then you must pair it with a high quality motherboard.
A high quality motherboard would not only make sure that your powerful CPU runs stability, thanks to its more powerful VRMs, but will also provide you with sufficient expansion and overclocking facilities.
On the other hand, if you are building a PC only with an entry level CPU such as an Intel Core i3 or and AMD Ryzen 3, then it wouldn't make too sense to spend on an expensive motherboard.
What Percentage of Total Budget Should You Spend on a Motherboard?
While that depends entirely on your use case and the specific features you are looking for (i.e. Thunderbolt header, overclocking ability etc.), the expected percentage of your total budget for a motherboard should be around 10%.
Avoid Overspending on Motherboard
A frugal PC builder would try not to overspend on a motherboard.
While you must make sure that the motherboard of your choice has all the required features and that it has a parity with the rest of your components, you should try not to go overboard in expenditure on a motherboard.
An expensive motherboard with RGB lights, aesthetics and all the stylish bells and whistles may tickle your fancy, but it wouldn't perform any better than a motherboard without vibrant aesthetics (but comparable core features).
So if you are particularly on a tight budget, you should try your best to maximize the budget for the CPU and GPU.
Factors That Make a Motherboard Expensive
There are many factors that add to the cost of a motherboard.
As mentioned earlier, spending more on a motherboard DOES NOT mean an improved performance. Spending more on a motherboard means you get more features.
So with that said, the following are some of the aspects that contribute to the overall price of the motherboard:
The Chipset
Number of PCIe Lanes
PCIe Version
CPU Socket
Amount of Expansion Slots
Dual GPU Support
Quality of VRMs and Their Number
Overclocking Support
Form Factor
Ports and Headers
Built-in WiFi
Looks and Design
1. The Chipset
The chipset essentially defines what features a motherboard will have. The number of PCIe lanes and their version, the slots, the CPU socket, overclocking support etc. are all defined by the chipset
I already talked about the chipset above and how it affects the overall price tag.
2. Number of PCIe Lanes
PCIe lanes are like information highways that carry information to and from the CPU and the connected components.
The higher the number of PCIe lanes a motherboard offers, the more expensive it tends to be.
Manufacturer
Chipset
PCIe Lanes
Category
Intel
Z690
28
- 12 x v4.0
- 16 x v3.0
High Performance
H670
24
- 12 x v4.0
- 12 x v3.0
High Performance
(Minus overclocking Support)
B660
14
- 6 x v4.0
- 8 x v3.0
Mid Range
H610
12
- 12 x v3.0
Budget
Z590
24
High Performance
Z490
24
High Performance
B460
16
Mid Range /
Mainstream
B560
12
Mid Range /
Mainstream
X299
24
Workstation
H510
4
Budget
AMD
X570
16
High Performance
B550
10
Mid Range
A520
6
Budget
TRX40
16
Workstation
High end chipsets like the Z690 can offer upto 28 PCIe lanes.
The higher the number of PCIe lanes, the more features it can offer in the form of ports and slots.
Also Read: What are PCIe Lanes?
3. PCIe Version
PCIe lanes can conform to different version. Motherboards with newer PCIe version tend to be more expensive.
As such, motherboards featuring PCIe 4.0 or 5.0 are more expensive as compared to motherboard featuring the old PCIe 3.0 version.
The PCIe version has a great impact on the throughput rate or the transfer speed of the connected components. With every newer PCIe version the per lane transfer speed doubles.
Newer PCIe version allows for faster and newer components to be connected to your motherboard.
Version
x1
(GB/s)
x2
(GB/s)
x4
(GB/s)
x8
(GB/s)
x16
(GB/s)
1.0
0.250
0.500
1.000
2.000
4.000
2.0
0.500
1.000
2.000
4.000
8.000
3.0
0.985
1.969
3.938
7.877
15.754
4.0
1.969
3.938
7.877
15.754
31.508
5.0
3.938
7.877
15.754
31.508
63.015
6.0
7.877
15.754
31.508
63.015
126.031
Also Read: PCIe 3.0 vs 2.0 – What is the Difference?
4. CPU Socket
Newer CPUs require newer CPU sockets. A CPU socket is the placeholder where the CPU plugs in and not all CPU sockets are the same.
For instance, the 11th Gen Intel CPUs require an LGA 1200 socket whereas the 12th Gen CPUs require the LGA 1700 socket.
Similarly, while the AMD Ryzen 1000 to 5000 series desktop CPUs require AM4 socket, the newer 7000 series desktop CUs require the AM5 socket.
Hence, the newer the socket, the more expensive a motherboard tends to be.
5. Number of Expansion Slots
The higher the number of expansion slots in the form of PCIe slots, M.2 slots or SATA slots a motherboard has, the more expensive it tends to be.
The higher the number of expansion slots the more components you can add to your PC.
6. Dual GPU Support
Motherboards that can support NVIDIA SLI or multiple graphics cards then to be more expensive.
7. Quality of VRMs and Their Number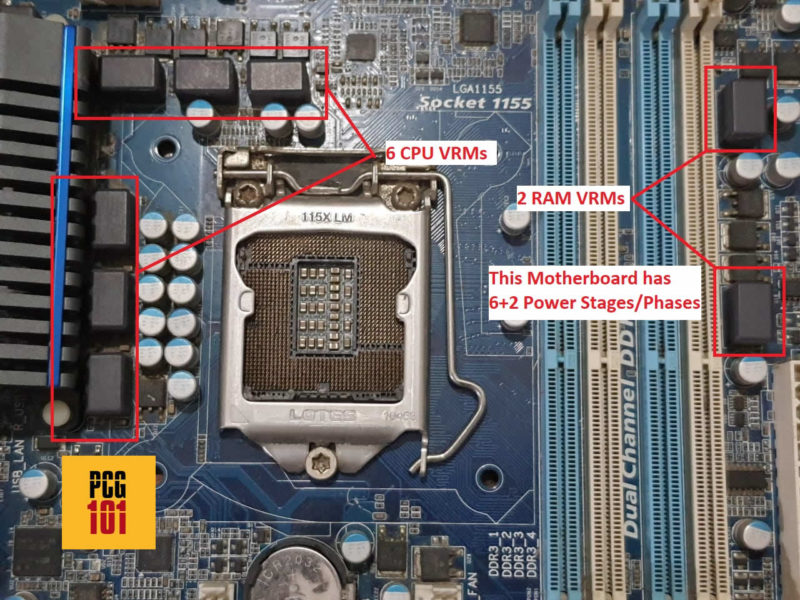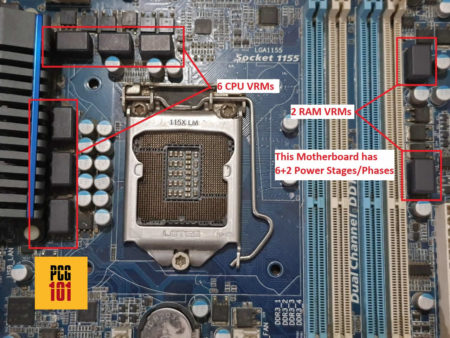 Also Read in Detail: What are Motherboard Power Phases and VRMs?
This an often overlooked feature of a motherboard. While you do need to care much for these if you are a home or an office user or a gamer on a budget, if you are an enthusiast or a high end gamer then you must consider the VRMs on your motherboard.
VRMs stand for voltage regulator modules. The higher the number of VRMs and higher the quality of VRMs your motherboard has, the more stable will your CPU perform PARTICULARLY when overclocked.
Of course, more VRMs and better quality VRMs means expensive motherboard. In fact, VRMs are a crucial determining factor between a cheap and an expensive motherboard.
8. Overclocking Support
Not all motherboards support overclocking. In fact, with Intel only Z series motherboard support overclocking and with AMD only the B and the X series motherboard support overclocking.
Motherboards that can overclock tend to be more expensive.
9. Form Factor
There three typical form factors for motherboards:
Full ATX – 12 x 9.6 inches (305 x 244 mm)
Micro ATX – 9.6 x 9.6 inches (244 x 244 mm)
Mini ITX – 6.7 x 6.7 inches (170 x 170 mm)
Generally, mATX motherboards tend to be the cheapest.
Mini ITX motherboards are the rarest and also often the most expensive if you compare spec-wise.
ATX motherboards are the most common type of motherboards. They are often preferred by gamers. They look nice in inside your PC case. They offer the most expandability. However, they are not the cheapest of the bunch.
10. Ports and Headers
The higher the number of ports and headers and the newer their version is, the more expensive the motherboards tend to be.
The ports a motherboard can offer include USB ports, Thunderbolt port, Ethernet ports, and video output ports such as HDMI, VGA, DP, and DVI.
So a motherboard with a Thunderbolt 3.0 port or a USB Gen 3.2 Gen 2×2 port would cost more as compared to a motherboard without these ports.
In addition to that, RGB or aRGB headers for adding aesthetic LED lights can also add to the cost.
Also Read: What are USB Headers?
11. Built-in WiFi
A motherboard with a built-in WiFi card tends to be slightly more expensive than its vanilla counterpart.
12. Looks and Design
And finally, the aesthetics of a motherboard play a vital role in its price tag as well.
Also Read: Does My Motherboard Support Overclocking?
Final Words
Building a PC almost always beings with the question "how much should I spend on a motherboard?"
Often buying a motherboard is confusing a process since there are so many vendors and models all featuring the same chipsets but varying price tags.
To simplify the process, firstly convince yourself that a motherboard DOES NOT have a direct impact on the performance!
An Intel Core i5 CPU would deliver the same performance on a $100 motherboard as it would on a $500 motherboard.
What makes motherboards cheaper or expensive are the amount of features they have and how good of an overclocking support they offer.
When spending on a motherboard, start with first considering what chipset would be the most suitable for you (the chipset generation defines what CPU socket it will have and thus the generation of the CPU it will support; whereas, the chipset series defines its features).
Budget: AMD A Series or Intel H*10 Series
Mid Range: AMD B Series or Intel B*60 / Intel H*70 Series
High End: AMD X Series or Intel Z Series
Then consider the form factor you need:
mATX: Cheapest with moderate expansion capability
ATX: Average price tag – highest expansion capability
Mini ITX: Smallest, compact and portable but very expensive (in terms of feature to feature comparison).
Once the chipset and the form factor has been decided, consider the number of RAM, SATA, M.2, PCIe slot you need. Consider the version of the PCIe slots you need.
Look at the type video output ports and their version. See what resolution and frame rates they can support (this is particularly important if you do not wish to spend on a dedicated graphics card).
If you are an overclocker, look for a motherboard with 10+1 (10+2) phase power design at least. Look for motherboards with extensive software for easy overclocking.
Look at the USB ports and headers – such as RGB, FAN, AIO cooler headers etc.
If you can find all your required features on a mere $100 motherboard, then you are good to go, if not, you will need to increase your budget for your motherboard ever so slightly until you have found a motherboard that satisfies all your requirements.