Yes, PS5 does come with an HDMI 2.1 cable out of the box. The size of the PS5 HDMI cable it comes with is about 1.5m or about five ft. long. This is enough to connect your PS5 to your TV if you have them relatively close to each other, on a TV shelf, for instance.
But, the cable is sufficiently designed with the Ultra High-Speed specs meaning it can cater to about 48 Gbps of bandwidth (without compression). HDMI 2.1 is called the Ultra High-Speed cable, according to its official nomenclature from HDMI.org.
Let's discuss PS5's display specs, the cable it comes with, and whether you need an HDMI 2.1 cable.
Different HDMI Cables and Versions
Before we go deeper into the topic, you may want to brush up on some basic knowledge regarding HDMI interface versions and cable versions.
Basically, with the resolution and the refresh rate on TVs and monitors going ever higher and with gamers demanding higher and higher display specs, the HDMI interface evolves.
The original PS4 supported the HDMI 1.4 specs as it was intended for playing on FHD@60Hz max. However, the frame rate was often capped at 30 FPS for many games.
However, with PS5, you have a new generation of gamers to cater to. Hence, PS5 supports the latest gen HDMI 2.1 port.
The following table shows the specs that the different HDMI port versions can support:
HDMI Version
Max Resolution
Max Refresh Rate
Max Bandwidth
(Gbit/s)
Effective Bandwidth
(Gbit/s)
HDR?
Audio Technology
Supported
HDMI 1.0
1080p
1080p @ 60 Hz
4.95
3.96
No
– 8 Audio Channels
HDMI 1.1/1.2
1440p
1440p @ 30 Hz
4.95
3.96
No
– 8 Audio Channels
-Super Audio CDs
HDMI 1.3/1.4
4096 x 2160 (4K)
120 Hz @ FHD Resolution
30 Hz @ 4k Resolution
24 Hz @ 4k Resolution
10.2
8.16
No
– 8 Audio Channels
– ARC
– Dolby TrueHD
– DTS-HD
HDMI 2.0
4096 x 2160 (4K)
60 Hz @ 4K Resolution
18
14.40
Yes
– 32 audio channels,
– Dynamic Resolution Adaptation (DRA)
– High-Efficiency Advanced Audio Coding (HE-AAC)
HDMI 2.1
Upto 10240 x 4320 (10K)
Upto 120Hz @ 10K
48
42.67
Yes
– 32 audio channels
– eARC
As you can see, HDMI 2.1 has the potential to support up to 10K resolution at 120 Hz.
PS5 does not support the full specs HDMI 2.1 is designed for. That may change in the future.
To cater to newer specs, you also need more robust HDMI cables. The following are the different HDMI cables out there.
HDMI Standard
Certification
Max Data Rate
Supported
Specs Supported
Best Port
Standard
4.95 Gb/s
720 or 1080P @ 60Hz
<1.4
High Speed
10.2 Gb/s
FHD @ 60Hz
QHD @ 60Hz
4K @ 30Hz
1.4
Premium High Speed
18 Gb/s
4k @ 60Hz
2.0
Ultra High Speed
48 Gb/s
4K @ 60Hz
8K @ 120Hz
10K @ 120hz
2.1
This brings us to the question at hand.
Which HDMI 2.1 Cable Comes With The PS5?
PS5 comes with an HDMI 2.1 or Ultra High-Speed HDMI cable that is 1.5 m or about 5 ft long.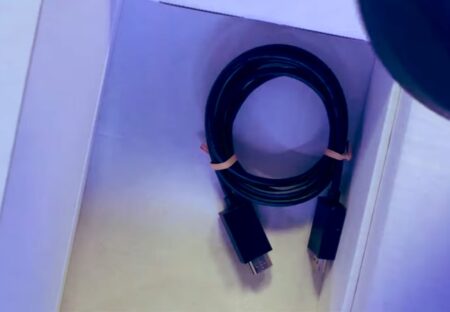 Given the short length of the HDMI cable, if your gaming console is sitting at a distance from your TV or monitor and you plan to get a newer and longer HDMI cable, make sure it conforms to the 2.1 specs.
HDMI 2.1 cables (Ultra High-Speed Cables) are naturally more expensive than HDMI 2.0 or 1.4 cables.
Also Read: Are All HDMI Cables 4K?
Can You Use Your Old HDMI or PS4 HDMI Cables with PS5?
Yes, you CAN use your old HDMI cables, but that is NOT recommended.
This is because if you use an HDMI 1.4 or an HDMI 2.0 cable with an HDMI 2.1 port found on the PS5, you will, unfortunately, be bottlenecked at the specs of the older-gen lines.
That's why, while your PS5 has the capacity to support 4K@120Hz, with an HDMI 2.0 cable, you will only be limited to 4K@60Hz.
And with an HDMI 1.4 cable, things will be even worse with your max data rate supporting only 4K@30Hz.
Does PS4 Come with an HDMI 2.1 cable?
No, PS4 does NOT come with an HDMI 2.1 cable. Even the newest PS4 Pro comes with only an HDMI 2.0 port and is thus accompanied by an HDMI 2.0 cable.
The following table shows different devices and gaming consoles and the HDMI port version they come with:
Generation
Device
HDMI Port Version
Newer Gen
Newer Gen Dedicated Graphics Card
HDM 2.1
PS5
HDMI 2.1
Xbox X
Xbox S
HDMI 2.1
Older Gen
Xbox One X
HDM 2.1
PS4 Pro
HDMI 2.0
PS4 Slim
HDMI 2.0
PS4
HDM 1.4
Xbox One
HDMI 1.4
Do You Need the HDMI 2.1 Cable For PS5?
Whether you need the HDMI 2.1 cable or not depends upon what TV and monitor you have.
In other words, if you have an FHD@60Hz monitor or TV, then even an HDMI 1.4 cable can work. And if you are wondering, yes, HDMI IS backward compatible.
Similarly, if you have a 4K monitor or TV with a max refresh rate of 60Hz, then even an HDMI 2.0 cable would suffice.
You will only need an HDMI 2.1 cable when you have a monitor or TV with 4K resolution and 120Hz refresh rate, and you want to leverage all that.
For that, you will need a TV with an HDMI 2.1 port, which is often only found on top-of-the-line brand-new TVs.
In addition to that, you must understand that PS5 isn't aiming to hit the performance rating of 4K@120Hz (120 frames per second) for their games anyway.
Pushing 120 frames per second at 4K resolution would be a struggle even for a PS5 and even with highly optimized titles.
According to Christopher Mullins, Sony's Digital and Home Cinema Product Manager, PS5 aims for a tremendous 4K@60Hz experience instead. For this, even an HDMI 2.0 cable would suffice.
"4K at 120Hz is… interesting, but actually with the next-gen consoles the baseline performance is to hit a really good native 4K/60Hz performance, and have that performance across many games."

Christopher Mullins – Reported by Techradar
Hence, in most cases, you may not even need an HDMI 2.1 cable after all.
What are the Display Specs that PS5 Supports?
PS5 supports
Full HD resolution at 120Hz refresh rate (120 frames per second)
4K Resolution at 120Hz refresh rate.
8K resolution at 60Hz refresh rate
However, when it comes to actual support, currently, PS5 can only support 4k@60Hz reliably since the 4K@120Hz hasn't matured enough for consoles – let alone 8K.
This is what Sony has to say regarding 4K@120Hz
As this emerging technology isn't fully supported in the market, Sony Interactive Entertainment is working with TV manufacturers to improve performance and bring the best experience to console users.

Sony
Also Read: How to Get 120FPS on PS5?
Does PS5 Support 144Hz Monitors?
PS5 DOES NOT support a 144Hz refresh rate. However, it DOES support monitors that are rated at 144Hz refresh rate.
As mentioned, PS5 only supports a maximum of 120Hz at 4K resolution.
Hence, if you have a monitor with a 144Hz refresh rate, whether FHD or 4K, the refreshed rate will be capped at 120 FPS max.
To avoid any issues, however, it is wise to change the refresh rate of your 144Hz monitor to 120Hz to sync correctly with the cap of PS5.
This tutorial shows how you can change the refresh rate of your monitor.
Also Read: How to Connect Monitor with No HDMI Ports?
Final Words
So, the answer to the question "does PS5 come with HDMI 2.1 cable?" is a definite YES. Hence, it can support 4K@120Hz or even 8K resolution out of the box.
However, the question remains, is PS5 even capable of pushing 4K@120Hz or 8K@60Hz with its hardware for its AAA titles at the highest quality? The answer to this, however, is unfortunately not established in the current scenario.
For instance, Horizon Forbidden West; this game targets 4K@30FPS or 1080P@60FPS. Hence for this title, even an HDMI 1.4 cable would suffice!
Frequently Asked Questions
1. Is HDMI 2.1 cable necessary for gaming on the PS5?
An HDMI 2.1 cable isn't necessary to game on the PS5. However, it offers certain benefits, like support for VRR and increased bandwidth.  
2. Can I use an HDMI 2.0 cable with my PS5?
Yes, you can use an HDMI 2.0 cable with your PS5. However, it's important to note that the HDMI 2.0 cable prevents you from enjoying features like the 8K resolution and VRR. It would be best to use the HDMI 2.1 cable to get the most out of your gaming experience.
3. How do I know if my TV is compatible with HDMI 2.1?
You can look behind your TV and check to see what is labeled above the HDMI inputs. While the label might not explicitly say HDMI 2.1, it could show you the maximum refresh rate. You can also check the TV's specifications.
4. How much does an HDMI 2.1 cable cost?
An HDMI 2.1 cable's cost varies depending on its brand and length. Therefore, you can spend anywhere from $10 to $100 on a high-quality HDMI 2.1 cable.
5. Are there any other cables that can be used in place of the HDMI 2.1 cable?
The HDMI 2.1 cable is currently the most advanced cable option for the PS5. While other cables like USB-C and DisplayPort support high resolution and refresh rates, they aren't as compatible as HDMI. Therefore, we recommend using an HDMI 2.1 cable for the best PS5 gaming experience.
6. Does PS5 Support Ultrawide Monitors?
No, PS5 doesn't support ultrawide monitors with an aspect ratio of 21:9 or higher and 1440P resolution.
7. Does PS5 Support QHD, WQHD, and 1440P Resolution?
PS5 does not support Quad HD, WQHD, or 1440P resolution. Therefore, if your monitor's resolution is 2560×1440, you'll be limited to running it at full HD resolution.